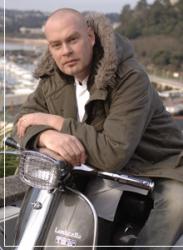 Following the England cricket team's victory in Australia, food fans are eager for a British triumph at the most prestigious culinary competition, the Bocuse d'Or.
Often referred to as the Oscars of the culinary world, the Bocuse d'Or 2011 takes place from January 25-26 at Sirha, Lyon, with 24 countries competing. Team UK will compete on day two, led by our indomitable candidate, Simon Hulstone of The Elephant in Torquay. It is the second time that he has represented the UK and he is well aware of the high hopes pinned on him. Hulstone will be joined in the competition kitchen by Jordan Bailey, also of The Elephant and mentored by coach, Nick Vadis, executive chef of Compass Group.
Thousands of supporters from all over the world will descend on France's culinary capital for the duration of the Bocuse d'Or. It is unlike any other culinary competition and more akin to a sporting event, with fans clashing pans, sounding horns and cheering as their candidate presents his/her beautifully presented platters to a panel of 24 judges. Brian Turner CBE, is UK juror.
This year, Britain will have its own Barmy Army with chefs, journalists, students and industry professionals joining forces to give Hulstone, Jordan and Nick the support that they deserve.
Britain has traditionally been slow to support its candidate and as a result, we have yet to have a candidate reach the podium. Previous winners have had months to practise their dishes but the British candidate has to fit his/her preparation around his or her full time job. In typical British style, Hulstone, patron a busy Michelin-starred restaurant, has only had January to refine his dishes.
Hulstone told Foodepedia: 'I feel better prepared that I did before the last Bocuse d'Or final and the support over the last nine months has been fantastic. I must admit that when I hear about other candidates doing dozens of practice runs I feel a little nervous. However, we are focused on what we can achieve and hoping that, with a bit of luck and the Great British fans behind us, we can make the country proud."
However, he is a talented competition chef with an experienced palate and determination to succeed at the highest level. The supporters out in Lyon will be hoping that this is enough to secure his place on the podium.
The Competition
Candidates have just five hours to produce a fish platter and meat platter from a specified weight and cut of the fish/meat, with a minimum of three garnishes on each plate.
The taste of the dishes is of maximum importance (40 points for taste; 20 points for presentation). However, each platter is paraded in front of the chef judges and the thousands of supporters so it has to have the wow factor!
The candidate must present 14 identical plates from the platter, these are marked by a jury featuring 24 of the world's top chefs. 12 chefs judge the fish platter and 12 chefs judge the meat platter.
To pledge your support for Team UK in the Bocuse d'Or, please visit: http://bocusedor.thestaffcanteen.com