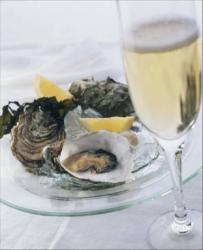 After a day of judging with 585 oysters shucked in the two categories of oyster tasted and 13 producers represented in front of 15 epicurean judges, the results are finally in from the inaugural Boisdale & Wright Brothers Oyster Tasting Championship 2011.
Poole, Dorset supplied by Dorset Oysters in the Rock category and Loch Ryan supplied by Rossmore Oysters in the Native took the gold medals at the event held at Boisdale of Canary Wharf in association with Champagne G.H. Mumm on Friday November 4, 2011 but the day was a triumph for the British Isles' oyster industry as a whole.
'The oyster tasting turned out to be even more thrilling than we had hoped," says Boisdale founder and owner Ranald Macdonald. 'The quality was incredibly high and even the judges were astounded by the variety of oysters on offer. The days of people ordering 'half a dozen oysters' are long gone; now the discerning shellfish lover wants to talk about a given oyster's flavour profile, its provenance and production. People now know their Maldons from their West Merseas, their Colchesters from their Caledonians. At Boisdale, we are finding more and more diners are comfortable tasting and talking about oysters just as they would wine."
After a blind tasting, the judging panel selected oysters for the top award as well as silver and bronze in both categories. The judges marked the oysters on appearance i.e. meat-to-shell ratio, flavour & minerality.
Winners:
Rock Category:
Gold – Poole, Dorset supplied by Dorset Oysters
Silver – Maldon Rock supplied by Maldon Oysters
Bronze – Portland supplied by Fleet Oyster Farm, Dorset
Native Category:
Gold – Loch Ryan supplied by Rossmore Oysters
Silver – Duchy of Cornwall supplied by Wright Brothers
Bronze – Maldon supplied by Maldon Oysters
Oyster lovers can taste all the oysters with podium places on Boisdale's 'Six Medal Plate' available at all Boisdale and Wright Brothers Soho restaurants in London for the duration of the Boisdale and Wright Brothers Oyster Festival. To ensure that as many as people as possible have the opportunity to taste these spectacular oysters, Boisdale and Wright Brothers will be offering them at half price Monday to Friday during the festival at 'Crazy Hour' from 5pm to 6pm. (Please note that there will be a limit of 84 oysters per customer per 'Crazy Hour'.)
The Oyster Festival takes place from November 8th to December 1st at Boisale of Belgravia, Boisdale of Bishopsgate and Boisdale of Canary Wharf and at Wright Brothers Soho.