Bombay Brasserie, Courtfield Road, London, SW7 4QH Tel: 0207 370 4040 www.bombaybrasserielondon.com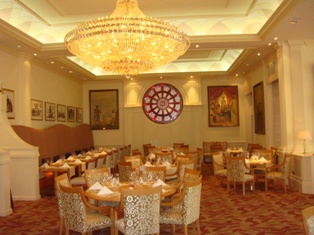 Having reported on Bombay Brasserie's forthcoming cookery demonstrations recently, we decided to go along and give them a try.
The refurbishment work that was completed at the start of the year has created three stunning but very different areas in this amazingly stylish restaurant. The bar, through which you enter the establishment, has been made into a chic cool and relaxed space, a great place to sit and work your way through an inviting aperitif, or whatever tickles your fancy. The main restaurant area is beautifully luxurious, adorned with chandeliers and a lovely stained glass window that faces you as you enter the room. As you walk through the main restaurant, you see what was originally a courtyard area, which has been converted into a marvellous huge 'conservatory' with further seating, and it is in this area that you find the food theatre where executive chef, Prahad Hegde, conducts his cookery demonstrations.
This experience provides a great opportunity to sit at the chef's table and not only watch the artist at his work, but to ask him questions as he does so. The demonstrations will both give you confidence to try out the dishes you are shown as well as, having picked up tips from the master, when you decide to try cooking other Indian dishes at home. For the demonstration, Prahad provides each attendee with a menu of the dishes he will be making for them to eat. The menu is comprised of two starters, a main and side dish, and a dessert. Together with the menu, Prahad also provides the recipes for each of the dishes, so that you not only see how it is done you also have the instructions on how to do it.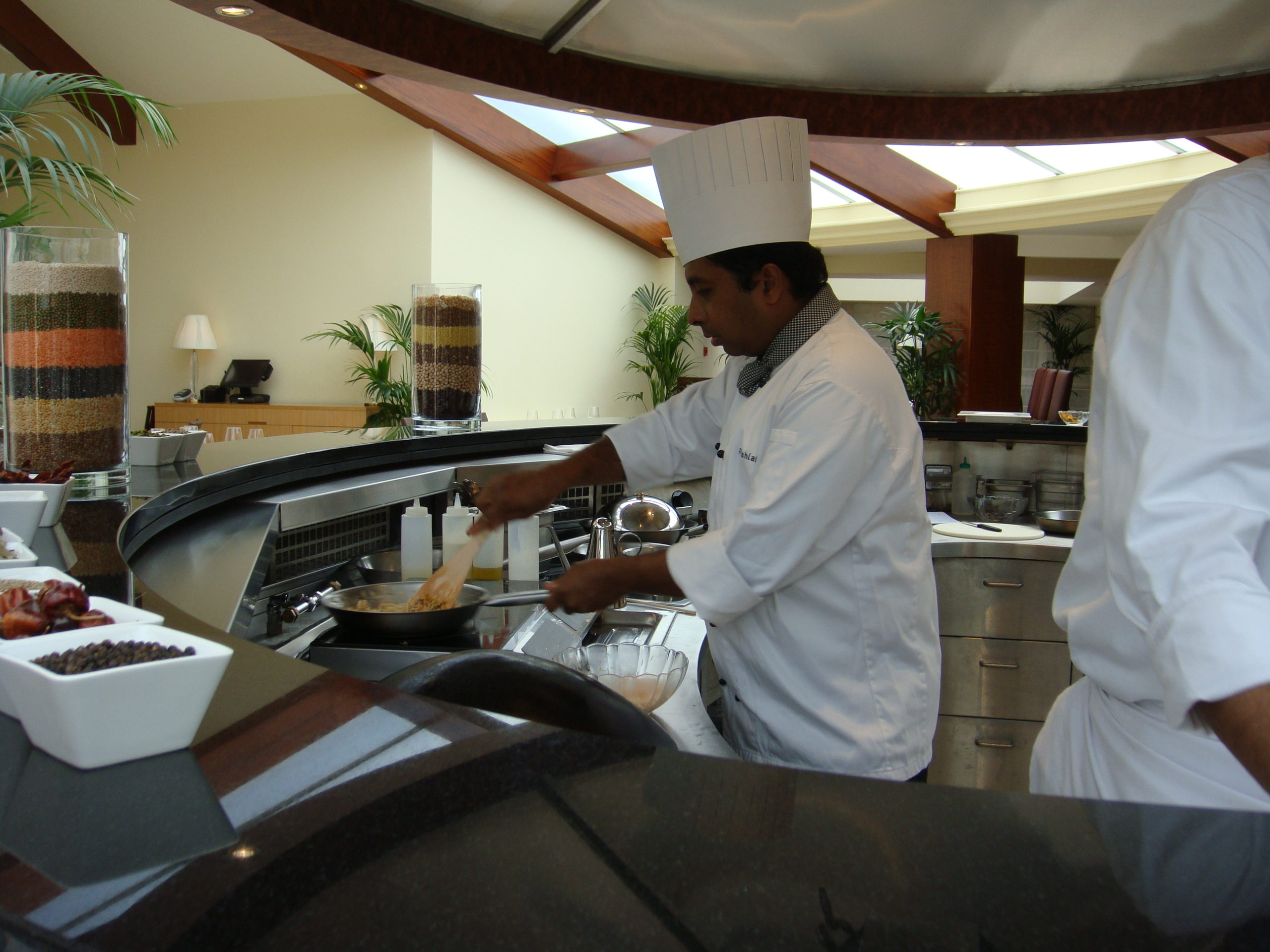 Prahad's style of Indian cuisine keeps oils and fats in the cooking to a minimum and therefore has a focus on healthy eating. The first of dishes that he created for us wasa starter dish, Khumani Ki Tikki, these lovely light and tasty potato cakes stuffed with a spicy apricot filling, looked wholly achievable for the home cook. Prahad's second starter was Crab Kalimiri, a beautifully presented pepper crab dish in which the flavour of the crab is enhanced by cooking it with delicate range of aromatic spices. The main dish was Murg Khatta Pyaz, chicken Tikka with vinegar shallots, a very tasty twist on the usual chicken tikka you might eat, and served together with the fourth dish he demonstrated, Aloo Katliyan, fragrantly spiced sliced potato dish. Together with some rice, this supported the Chicken Tikka incredibly well. Prahad's dessert was a granny smith Apple Kheer, a combination of reduced milk and lightly cooked shredded apple with a little cardamum powder, which he topped off with a nicely acidic apple puree.
This is a great way of spending a lunch with friends, or maybe as a work team building exercise, eating great food, whilst learning some Indian cookery techniques. At £40 per head we can see that this would be an affordable, opportunity for groups to learn, share and bond in an excellent atmosphere and a stylish location. This really is something that is worth getting people together for, we enjoyed it immensely. These demonstrations are available Monday to Friday lunchtimes only until 26th September, so if you want to guarantee getting a place at one, you will have to act soon. It is a great concept.