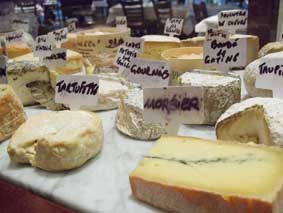 'The condemned man ate a hearty last meal'. In England it was often a fry up, in America pizzas and burgers still seem most popular with an increasingly obese nation. For me my Last Supper would be a great big plate of perfectly ripe cheeses and Jean-Claude Ali-Cherif, Frommelier at Le Bouchon Breton, would be the man I asked to provide it. Here tonight at the restaurant he is cheerfully trundling his laden cart of cheeses up and down to the obvious happiness of all the diners. I think this man loves cheese even more than I do.
Since it opened, Le Bouchon Breton was talked about in semi-reverential terms by cheese lovers (fromageophiles?). Under the trolley's glass lie over forty regional variations of French cheeses each at the perfect point of ripeness and with large felt-tip signs to inform you what each is. I like that touch, normally when the cheese comes round I tend to forget what I'm being told as the waiter rattles through the list, this way I can go back and zero in accurately.
Tonight though we are not dining but sampling Bouchon's new idea, a cheese master class with wine pairing. Jean-Claude is hopping up and down with excitement and before we have sat down is already pressing a 2002 Nicolas Feuillates Rose on us together with a little pre-nibble of some Murol from the Auvergne and a Morthais sur Feuille goat cheese from Deux Sevres. A bite of the cheese mixed with a mouthful of the wine causes an alchemic process in the mouth that makes you go 'mmmmm' involuntarily. Jean-Claud grins with pleasure and encourages us to sit down and get stuck in to the pairings proper.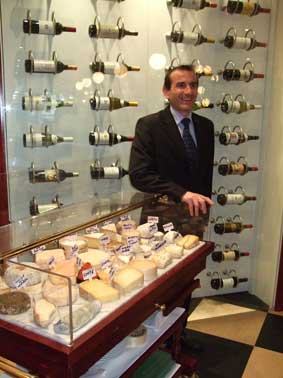 The masterclass costs £50 and for that you get to try ten cheeses with matching wines all served with slices of crusty baguette. Excellent value when you consider the quality of both wines and cheese. Not only does Jean-Claude personally inform you about each pairing, but his young team of waiters seem equally knowledgeable and ready to share their obvious enthusiasm. One tells us how he always rushes down to the cheese supplier's van when it comes, keen to get his nose inside and see what's new. A far cry from the sort of 'couldn't care less' waiter so many restaurants seem to have and, along with the excellent cooking, another reason why on a Tuesday night the restaurant is doing very good business indeed, despite its rather out of the way location.
The cheese class is one of those ideas that you wonder hasn't been done before. Cheese and wine are natural partners but most of the time we don't choose a wine to go with a cheese as we would, say, with a dessert. Jean Claud's pairings show what we've been missing as he gradually ups the cheese selection pungency and the wines that go with each. A Roeulle du Tarn goat's cheese from the Midi Pyrenees seems mild at first but the Jurancon Sec teases out hidden, submerged flavours. While a Couronne Lochoise from Loire Valley has its delicate flavour balanced perfectly by a Pouilly Fumee villa Paulus. A wonderful Montrachet, single farm goat's cheese from Burgundy meets a Meursault Mischief +Mayhem 2006 and is superb. And as for the Brillat Savarin aux truffes with a Premier Cru Vosne Romanee, this is about as close as anyone who can't eat foie gras will probably get to foodie heaven.
Cheese is rather filling and as we wander out with an almost visible aroma of cheese hanging over us, we don't feel we need to get supper although the dishes inside looked pretty tempting. Le Bouchon Breton certainly knows its market; people who like food to be food, not art or experimentation. Hundreds of years have gone into bringing these cheesy delights to the table and an hour or so in Jean-Claud's company is a wonderful way to honour the great French cheese and wine producers who never let go of tradition or standards.
Le Bouchon Breton, 8 Horner Square, Old Spitalfields Market, London E1 6EW
Telephone: 0800 019 1704
Breton Cheese Master Class Dates for 2009
6-7pm Tuesday 31st of March
6-7pm Tuesday 28th of April
6-7pm Tuesday 26th of May
6-7pm Tuesday 30th of June
6-7pm Tuesday 28th of July
6-7pm Tuesday 25th of August