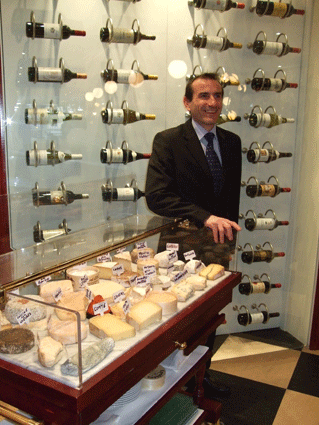 Le Bouchon Breton, the recently launched Spitalfields super brasserie, famous for serving one of London's best 'Steak Frites" and having one of the largest and best stocked cheese carts in Europe is delighted to introduce Jean Claude Ali Cherif as their newly appointed Frommelier and to launch a monthly cheese master class for the public starting in March 2009.
Since it opened back in October 2008, Le Bouchon Breton has become a huge hit on the London dining scene and infamous for its replete and pleasingly pungent Gallic cheese trolley. The Breton cheese trolley features over forty different regional varieties, all wheeled from table to table much to one's delight.
Breton Cheese Master Class Dates for 2009
6-7pm Tuesday 31st of March
6-7pm Tuesday 28th of April
6-7pm Tuesday 26th of May
6-7pm Tuesday 30th of June
6-7pm Tuesday 28th of July
6-7pm Tuesday 25th of August
Jean Claude Ali Cherif – Frommelier, Le Bouchon Breton
Jean Claude became passionate about cheese from his homeland during his first job in London in 1988 at Le Beaujolais in Covent Garden, a French stronghold for many years. Le Beaujolais had an extensive range of French cheeses, which at the time was rare and the young Frenchman was soon busy learning about all of the 400 different types of regional French cheese. In 1990 Jean Claude took his knowledge and expertise with him to The Bleeding Hart where he took over sourcing all of the restaurants cheese, creating his own selections. Since he joined the team at Le Bouchon Breton, Jean Claude has delighted customers with his enthusiasm and understanding of his subject and has created the ultimate cheese selection of over 40 French cheeses available from the impressive trolley. Making sure the cheese is served at its best and at the right temperature makes all the difference, good storage and regular checking ensures each cheese is brought to life ready for the customer to get the best flavour and maximum pleasure.
Le Bouchon Breton, 8 Horner Square, Old Spitalfields Market, London E1 6EW
Telephone: 0800 019 1704