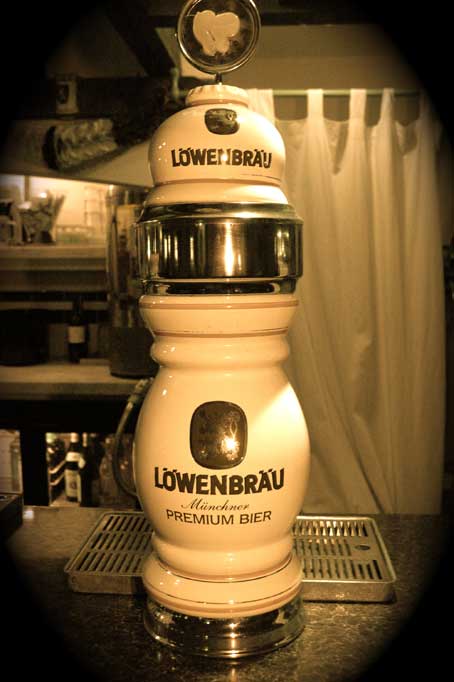 It's past 2pm on a Monday so the Bavarian Beerhouse is quiet, which is a rarity in a place known for uproarious good times. At one table three people are sitting with the funny Bavarian hats the bar sells on their heads, they seem unselfconsciously determined to enjoy the experience even if it makes them look like Hobbits on a geography field-trip. Vast glasses of beer are in front of them, even vaster plates of sausages and ham hocks are there too. They have the air of very happy punters.
Close by Head Chef Jörg Ebermann is taking a post lunch breather. I hope he doesn't mind when I say that he is not a small man, he is in fact a little on the large side with twinkling eyes and a surprisingly delicate way about him. The bench seat seems too fragile to support his weight but as I am on the other end, I hope it doesn't give out. It' s unlikely, this place is designed to handle the clientele. The tables are functional and regimented in lines, the floor is concrete, one that has seen some action from the look of it, and the decoration minimal.
The purity of German lager

'A beer?" invites Jörg in his perfect English tinted with a Bavarian accent. Yes please, there ia after all a large range of German beers on offer, many I haven't seen before such as the dark wheat beer Paulaner Hefe Weissbier Dunkel I settle on. All the beers are imported direct from Germany to benefit from that country's strict purity laws. There's no question of going to the bar though, one of the civilised things about Beer Kellers is that comely maidens in traditional Bavarian Dirndls bring drinks to the table. You can't help but notice, as the waitress bends to deposit the glasses, her attractive 'rack' as less sensitive and less liberal people than me might call it. Are the girls chosen for their outstanding features? Jörg in laughs, 'no actually the most important thing is they can carry all those steins at once. A litre of beer is heavy anyway, and once it's in those thick glasses it's even more so. And the girls have to carry whole armfuls back and forth all the time. 'Of course,' he adds nodding, 'they are all very pretty too.'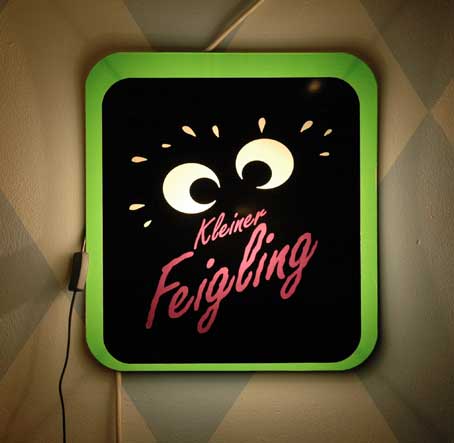 A happy atmosphere is what the Bavarian Beerhouse is all about. It's like Oktoberfest every day here and when the football is on, particularly Germany v England matches, the roof would come off were it not in a cellar. 'I love those match nights,' says Jörg. 'We have to take bookings or we would be so full no one could move. We can get about three hundred people in here and on those football nights we could sell five times that number, the phones don't stop ringing. It's such a great time, people are here to have fun no matter what team they support and it's a friendly night. I'm really happy sending out the food non-stop and hearing the noise in the bar. We go through forty or fifty 50ltr kegs of beer a week on average, and a lot more on match weeks.'
Ah yes the food, what does a Bavarian eat when taking on vast quantities of beer? Chef ambles off to the kitchens to cook us up his favourites while I drink my lovely lager and watch the holidaying hobbits who have moved on to some of the drinking games the Beerhouse specialises in. First up is a Porno Brause half Metre, which is basically eight shots of Vodka lined up on a metre long board with a sherbet. The idea is you put the sherbet in your mouth, add a shot of vodka, shake your head violently and then swallow the lot. The first hobbit gets it in the wrong order, which produces the effect of soda siphon. Jörg emerging from his kitchen with plates of Obazda cheese and potato salad in his giant hands grins at the sight. 'Oh the games are great,' he laughs. 'The one I like is when you challenge the snapping crocodile and shark, Harald and Knut. If you beat them, the next round of Schnapps is on the house. The waitresses like that one too.'
Beer is food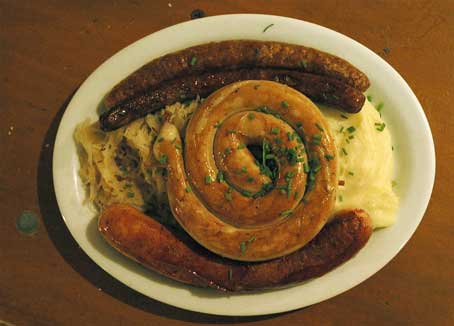 The Obazda cheese, a Bavarian speciality, is Camembert mixed with cream cheese, butter, beer, onions, paprika and caraway seeds served with a proper pretzel, which has the saltiness, and chewiness that defines it. The cheese is really rather good indeed and with the pretzel is perfect with beer, which is of course the point. The potato salad has no mayonnaise, which makes it less fattening but is deliciously moist and tangy with wine vinegar, bacon. onions and chives.
Even as we finish that, Jörg brings out a selection of sausages to try – the coiled Bratwurst Schnecke, Frankfurters, ordinary Bratwurst, Nurnberger, Merguez and many more all served on a bed of excellent creamy mash with, of course sauerkraut and mustard on the side. It makes you crave even more beer, a marketing stroke of genius.
'All our meat is imported from Germany and I like the roasted pork shank best myself. We sold over 2000 in 2007 and we're still counting 2008's' says Jörg. 'I cook it slowly and get a really crispy skin, it's delicious. We have special nights here for big dishes too with for example roast suckling pig on Tuesdays, while Mondays its all about Schnitzels and beer deals and of course, we do a big roast dinner on Sundays at a great price. It's very popular.'
Parties welcome
Out back he shows me a 'private dining room' that is basically a wooden chalet 'The carpenters came over from Bavaria,' he explains. 'It's very popular for private parties and of course we do a lot of stag and hen nights here and we also have audio visual equipment so that there can be live music, or it can be used by businesses for office away-days, team building exercises that sort of thing'.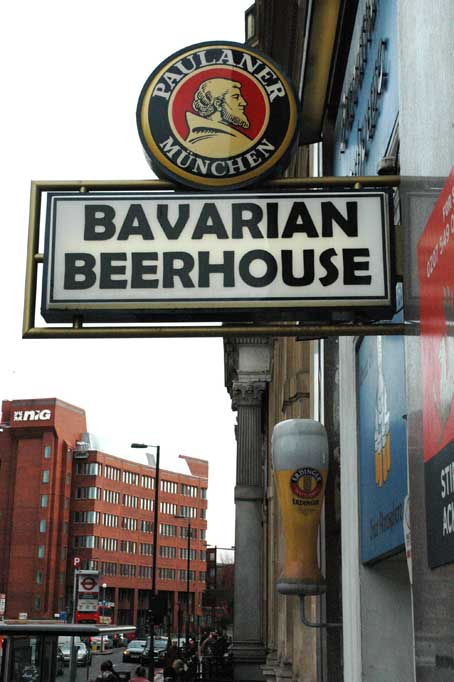 The list of events planned for the year seems endless, there's always a reason to have fun as far as the Bavarian Beerhouse is concerned. They can even bring the Beerhouse to you with a range of outside catering offers. As we pass the hobbits they seem remarkably well-behaved considering the drink they've been putting away, No doubt mixing it with heavy carb intake is the secret and why nights in the beerhouse are so much nicer than nights in the pub. People drinking and eating results in more bonhomie and less head banging.
It's a party place every day and it's easy to see why it's so popular. And while Old Street is hardly as beautiful as Bavaria, 'Such scenery!' sighs Jörg, it has its charms and the Bavarian Beerhouse is one of them. Check out all they have to offer at www.bavarian-beerhouse.com
Nick Harman

The Bavarian Beerhouse, 190 City Road. London, EC1V 2QH