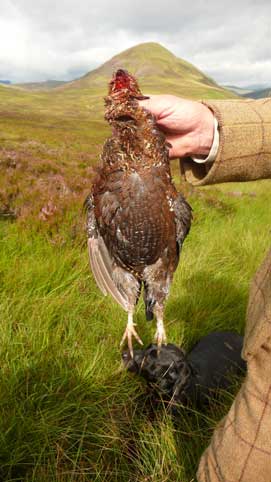 Le Bouchon Breton has launched'La Fete de la Chasse" a range of game platters including 'Grouse a la Anglais" to celebrate the start of the game season
Head Chef Olivier Ripert and his team of chefs at Breton have devised three special seasonal treats which kick off with the king of game, Traditional roast grouse 'a la Anglais" with all of the moreish trimmings: Wrapped in bacon, buttery bread sauce, a crouton with forcemeat paté, roasted breadcrumbs, watercress, game chips and a rich game jus.
We've tried it ourselves and, well, rich isn't the word. This is serious trencherman stuff that you may need to loosen your corsets for. Apparently chef is now a fan of bread sauce, despite initially giving it some Gallic suspicion. Slowly roasted means just that so either order in advance or be prepared to enjoy a lot of wine whilst waiting. And to finish? It has to be the Breton's superb cheese trolley.
La Fete de la Chasse
A selection of food to share for this classic seasonal festival
L'Agopede d'Ecosse Facon Anglaise £40
Slowly Roasted Grouse wrapped in Bacon served with Game Chips, Liver Pate Toast, Seasoned Breadcrumbs, Bread Sauce, Grand-Veneur Sauce and Cranberry Sauce
Le Pot de Lievre au Vin Rouge, Pommes Mousseline £22
Jugged Hare with its Braising Jus served in Earthenware Pot with Side of Pommes Mousseline, ideal for sharing
Plateau de 'la Gloire de Mon Pere' £27pp
Half Roasted Pheasant, Venison Loin Tournedos and Quail served with Brillat Savarin Sautéed Potatoes, Green Beans, Bread Sauce, Grand-Veneur Sauce and Cranberry Sauce, for two people
There are also two further game offerings for the autumn game season to complement the roast grouse including comfortingly mellow Jugged hare cooked in red wine and served with velvety pomme mousseline as well as A mixed game sharing platter which includes roast pheasant, quail and venison with Brillat SavarIn sauté potatoes, green beans and three delicious sauces, bread sauce, grand veneur and cranberry sauce.
To book in to sample these seasonal delights call the reservations team at Le Bouchon Breton on 08000 191 704.
Le Bouchon Breton, 8 Horner Square, Old Spitalfields Market, London, E1 6EW