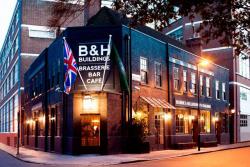 Bourne & Hollingsworth Group is directing its creative focus from the cocktail to the kitchen with the appointment of new Executive Chef, Adam Gray.
Adam Gray has headed up Michelin starred establishments, owned his own pub, and taught extensively about food. Gray began his career under Bruno Loubet at the Four Seasons Hotel on Park Lane then at Le Manoir aux Quat' Saisons in Oxfordshire.Before joining Bourne & Hollingsworth, Gray was Executive Head Chef of Skylon Restaurant in the Royal Festival Hall on the South Bank.
Situated just off Exmouth Market, Bourne & Hollingsworth Buildings features a 70-cover restaurant and greenhouse, a café area, private rooms and a large bar serving the brand's famous cocktails.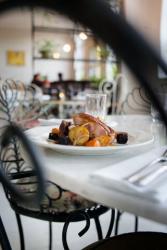 Completely overhauling the lunch and dinner menus, Gray has added his own take on B & H Buildings' modern British brasserie style. His menu which changes frequently, reflects the Buildings' own warm, yet modern feel. Focusing on quality seasonal produce and simple, yet perfectly composed, recipes, Gray's dishes let the ingredients do the talking. The new dishes have been designed to match the restaurant's flexible dining – perfect for casual bites with friends or to celebrate a special occasion. Examples from the new menu include:
Cream of celery soup, poached duck egg £6
English heritage potato and smoked bacon salad, salad cream dressing £8/16
Roast Saddleback pork chop with Cumbrian black pudding, carrots, apple and pork gravy £15
Baked sea trout with Kohlrabi apple salad, green chilli and avocado dressing £16
Gluten free lemon pudding, sloe gin, poached blackberries, vanilla yoghurt £6