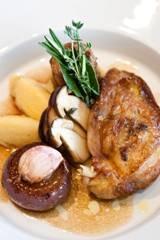 Chef Joël Antunes of Brasserie Joël, at London's Park Plaza Westminster Bridge Hotel is getting all excited about the new season Pheasant. He says that pheasant is the most delicious of all the game birds and it's best eaten roasted whilst young and tender. According to Joël the saltiness of olive tapenade and the texture of porcini mushrooms compliment the deep, earthy flavour of pheasant perfectly.
Famed for his classic bistro dishes combining seasonal ingredients with the expertise he's gained from 30 years of working in the best kitchens in the world, Joël has devised a new Autumn menu at Brasserie Joël.
The menu aims to showcase a variety of mushrooms; Butternut Squash Soup with Tompette Mushrooms and Buffalo Ricotta; Wild Mushroom Lasagne with Parsley Sauce; Baby Artichoke and Butternut Squash Risotto with Pea Shoots, Mousseron Mushrooms and Sun-dried Tomato and Porcini Fricassee with Gnocchi Ricotta. There are also Autumn themed desserts of the menu: Chestnut Perce-Neige with Rum Ice Cream and Chestnut Crème.