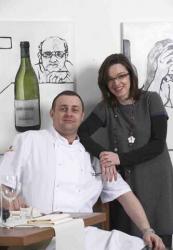 Head chef of High Timber, Justin Saunders decided to develop the exclusive range of British cured meats after diners began demanding more and more of the traditional biltong.
Notably, High Timber's luxurious biltong uses prime cuts of quality meat rather than the traditional off-cuts of lesser parts. These prime cuts are then cured and air dried to perfection.
Neleen Strauss, co-owner said 'Biltong has long been a favourite in South Africa and we have always offered it as a flavoursome accompaniment to wine. After the World Cup, we found more and more of our diners asking for it."
'The restaurant has long been renowned for its steak, so we decided to create our own style of Biltong with British meat from our trusted farms. Our customers can now enjoy it as a bar snack, after- meal treat or to even take-away back to the office. We are delighted that it is proving such a hit, Justin can't make it fast enough."
Diners can choose variations including;
1) Cumbrian dry-aged topside of Galloway beef, cured in a sweet recipe, of salt, sugar, vinegar and coriander seeds.
2) Royal Balmoral estate Venison, cured in salt, sugar, Worcester sauce, vinegar, peppercorns and coriander.
3) Cumbrian Hill Bred Lamb, cured in cumin, carraway, garlic, rosemary, Worcester sauce, sugar, salt.
With a cellar offering more than 40,000 bottles of wine and promoting a 'wine dining' ethos of eating, the High Timber team has had fun in matching the new biltong to a range of their wines.
A newly launched Syrah from award-winning Jordan Wine Estate in South Africa, 'The Prospector' has swiftly become a firm favourite. The dense, dark chocolate flavours of this red wine, perfectly complement the meat, spice and coriander of the Biltong. With bonus season around the corner, the aptly named wine is being ordered as a celebratory tipple to accompany the meaty treat as quickly as it reaches the cellar.