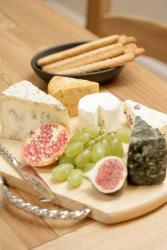 Bored of giving the same old chocolate eggs, why not opt for something different this Easter? With 99% of households buying cheese and 700 cheeses made on British soil, it's safe to say we're a nation of cheese lovers, so why not combine two old favourites: chocolate and cheese.
Cheese and chocolate may not be the most obvious combination, but with both made from milk, they are surprisingly tasty together. Following in the footsteps of strawberries and cream, salt and pepper, and fish and chips, could chocolate and cheese become the next culinary combination we can't live without (provided it's British, of course!)?
The British Cheese Board has compiled a list of the top six chocolaty cheese treats to titillate your taste buds this Easter.
For the cheese lover's perfect Easter present, Yorkshire creamery, Wensleydale, has created Wensleydale with Belgian Chocolate and Orange. The adventurous combination has been described by award winning food blog, Foodstuff Finds, as a 'very clever cheese' and is available at Asda. Although it has only been in-store since early December, it is already proving to be a hit with cheese fans up and down the country.
For something truly exotic, try one of these cheese, walnut and grape chocolate bars from chocolate maker, Zotter. Described as a 'harmonious combination', you can pick one up from the Chocolate Cafe in Ramsbottom, Greater Manchester, or online at chocolate-cafe.co.uk.
For the perfect spring chocolate, try Kinderton Ash Goat's cheese, lemon and rosemary chocolates. Created by Paul A Young, you'll find them at his shops in Islington and on Threadneedle Street – 020 7424 5750.
We've all heard of cheese and wine evenings, but what about adding chocolate to the mix for a cheese, chocolate and wine night? Well, the cheese connoisseurs at La Cave a Fromage have organised just that. For a mouth-watering evening out, pop along to the Kensington or Hove shops on 21 April. Reserve a place by booking on 0845 10 88 222 (London) or 01273 725500 (Hove).
Following in the footsteps of William and Kate with an Easter Wedding? Why not choose an Easter-themed cheese wedding cake coated in chocolate, complete with decorative mini cheese chocolates? Contact Tanys Pullin at Ford Farm at sales@fordfarm.com.
Last but not least, one for the stilton-lovers: our friends at specialist cheese makers Long Clawson are offering twenty lucky stilton enthusiasts the chance to win a cheesy egg. To bag yourself a white stilton and apricot egg covered in delicious milk chocolate, just 'like" Long Clawson on Facebook (www.facebook.com/clawsondairy) or follow the team on Twitter (@ClawsonDairyLtd).
British cheese has a rich heritage spanning hundreds of years and there are more than 700 named cheeses of outstanding quality currently being made in the UK. British cheese is amongst the best in the world (in fact our Cheddar is the best in the world – we invented it) so make sure you check the label to find out whether the cheese you're buying is British.
To find out more, please visit the British Cheese Board website at www.britishcheese.com or find them on Facebook www.facebook.com/britishcheese.