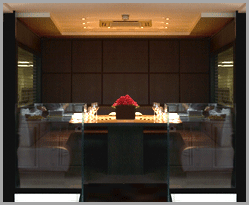 Do we dare mention the 'A' word? No need, it's done for us. One of the legions of men who pass by, almost all of whom mysteriously claim to be the chef at Maze, talks positively about the influence of Jason Atherton on the restaurant's menu ethos. He seems almost wistful as he talks of the days when Jason and Big Sweary would stand around the Maze kitchen swapping ideas and possibly blows.
Days all gone now, of course. Atherton is, even as we eat, serving selected people at his new restaurant a bread roll throw away in Mayfair and causing a buzz even before the official opening.
Where does this leave Maze? Still doing good business. The dining room is still packed with well-heeled punters and Maze Grill seems busy too. We're at the chef's table in the kitchen, a table that's supposed to be VIP, although quite when we all decided that dining in the engine room was preferable to eating in First Class is a mystery. One thing's for sure, a restaurant without a chef's table is something of a rarity in any place that takes itself seriously.
It's a very nice chef's table. Glass sided, but open at the front where it faces the pass. From here you can see the tickets arrive and the chefs call the orders. If you're a fan of Masterchef, or any of the other cookery programmes that litter our TV screens, this is fun indeed. Waiters and sommelier take turns to approach our table and tell us what we will be eating and drinking. Some of us tweet obsessively about this but others politely turn off their 'phones instead.
The special menu is called 'Unusual Pairings from around the world' but my cheerful suggestion that this means we can look forward to Coca Cola with foie gras only makes the sommelier purse his lips and move on swiftly.
A six-course menu is proposed, nothing too heavy in my book but one of our number worries that he may get drunk. He then says he doesn't like wine. Confused by this oxymoron, we focus on what's on the table.
Caul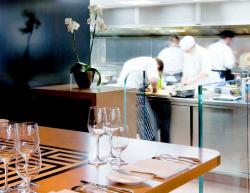 iflower velouté, smoked haddock, potato, confit egg yolk is an innocuous start. I love smoked haddock and its affinity with egg is legendary. Earthy cauliflower has been tamed by cooking and sieving to be a suitably smooth accompaniment to a nicely balanced dish overall. A British wine, Nyetimber, blanc de blancs, 2001is acidic enough to cut through the smoky tones of the fish.
Saki is served next along with the Salcombe crab, grapefruit fluid gel, mango and wasabi ice cream. The Tarumoku Dewakazura, NV Yamagata-Japan is fizzy and served cold, I've been told this is how the Japanese like it on picnics. The crab is tuck shop sweet, the grapefruit delivering some needed tartness but I would have liked a bit more wasabi in the ice cream. Not so as to deliver the wasabi agony you get when eating sushi, but enough to remove a little of the creaminess which was a teensy bit sickly. A quibble, nothing more.
Chef invites us to tour the kitchen and have a go at some cooking. I prefer to watch the others cook our next course. The chefs are all very kind and helpful and those of us that do cook have a very merry time of it. I keep my eye on the plates and make a mental note of which one looks best and which worst so I can avoid a mistake.
It's a deceptively simple dish. Cod, field mushroom purée, salsify, tiger prawn, truffle cappuccino. The cod is delicious, falling away at a fork prod in tectonic plates. The salsify, often called the 'oyster root' because of its unique taste has been chipped and the aroma of truffle is heady. I finished the dish in a few bites and then nibbled the tiger prawn ruminatively while sipping the wine.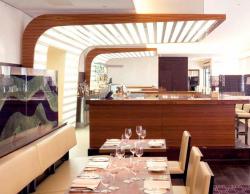 Giant Steps Chardonnay "Arthur's Creek", 2008 Victoria-Australia is creamy and tastes of cheese rind, but in a good way. If Chardonnay is to stage a comeback from naff, this example should be leading the charge. It's a great pairing with the dish
Normally on a tasting menu I sigh sadly when I see lamb come out as the last savoury dish. Not that I don't like lamb, it's just a bit heavy when you've waded through humpteen courses already. Maze of course have considered that and the dish is a masterclass in keeping things light even if it doesn't read that way.
Cannon of lamb, braised shoulder, turnip and pistachio purée, confit turnip, pommes vapeur with mint, balsamic jus is teeny-tiny on the plate but the lamb is pinkly perky and perfect with none of the gaminess that lamb can have. The Innis & Gunn beer is, as the menu, promised, an unusual pairing but a good one. The only reason that restaurants don't serve more bottled, artisan beers must be down to the fact that it's hard to mark up a bottle of beer by 300% without someone noticing. Certainly there are enough beers available now to make for more interesting drinking than there were ten years ago.
And so to cheese, as is the French way. A bit of a disappointment here, three cheeses on a slate and none of them all that interesting, but the Cline small berry, late harvest mourvedre, 2008 California-USA was good. There are very few Mouvedre vines left in California and so very few bottles available. of this particular wine, Maze is probably the only restaurant in London to have some of this loveably intense wine.
Dessert is 'Blackberry and apple crumble', blackberry sorbet, apple mousse, streusel, blackberry and apple soup paired with Moscato d'Asti Bricco Quaglia, La Spinetta 2010, Italy. It's good to see crumble' on a menu, even if it's not actually like any crumble mother would make. Relatively young vines produced the Moscato, which is floral and ideal for the dish.
An experience to savour and proof that Maze is not yet lost. Chef needs to get his face out there more though, in newspapers, magazine and on TV. These days any high-end restaurant that doesn't have a name attached is losing out on the marketing. It's a shame because chefs shouldn't have to do that kind of thing, but it's inescapable now.
Maze can still amaze with its style, even if the food can sometimes look more full of flavour that it turns out to be. This is a fun menu and well worth a try.
Six courses £70.00
Including drink pairings £125.00