There's something wonderfully exotic about fish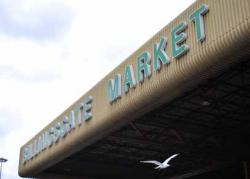 that plain old meat just can't quite muster up. I don't know if it's the wide range of different species to choose from, maybe it's the dramatic fluctuations in size and appearance, or perhaps it's because I eat it on a less regular basis than meat, whatever it is the mysterious sea-dwellers fascinate me.
There are a number of reasons why I probably eat less fish than meat, but predominantly I believe it's because I know so little about it; how to cook it, how to tell if it's fresh or even how to identify it and I know I'm not alone.
Looking back on my school days, I remember spending the majority of time in food class learning how to make the perfect bread roll or mastering the complex art of baking flapjack when skills like fish preparation would have been infinitely more useful.
Fast forward fifteen years and finally I've taken matters into my own hands, and decided that it's time I learnt the basics about fish. After doing some research on the subject it became apparent there that there was no shortage of places in England offering fish and seafood related training courses, but to me, living in London, the most logical place to start had to be Billingsgate's Seafood Training School. I've managed to make the early morning pilgrimage to the actual fish market on a few occasions and it is unquestionably one of the most amazing places you will ever visit if you are a foodie.
Open since 2000, the Seafood Training School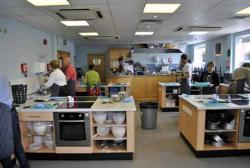 was originally set up as a charity to teach young children about fish. But since 2006, following the addition of kitchen workstations and a lecture room, the school has been open to the public and also to businesses to train their staff. There are currently somewhere in the region of fourteen different courses available for fish-lovers, ranging from early-morning guided tours of the market to sushi and sashimi master-classes.
Following a bit of background reading on the various courses that the school offered, I decided to go with 'Practical Fish on Monday at Billingsgate", as it sounded like it gave the best introductory overview of the basics skills and knowledge that you need to take your understanding of buying, preparing and serving fish to the next level.
The day starts with an interesting and insightful introduction to the market and its history, an overview of what to look out for when buying fresh fish, how we can do our bit to help the dwindling ocean population and finally a round up of the basic tools used to prepare fish.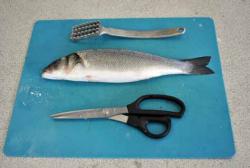 The following two hours is the hands-on segment of the day and is also the most enjoyable. Helped by the expert guidance of our very helpful teacher, each student is shown how to gut, clean and fillet a round fish, skin and pin bone a fillet, prepare a squid and trim and fillet a flat fish, instruction on how to prepare a further 4-5 species takes place throughout the day too.
The remaining part of the day focuses on ways to cook the fish that have been prepared during the morning before several simple recipes are demonstrated and then served up at the end of the day and enjoyed by the entire group. The course runs from 9:30am – 2:00pm and as well as the course, you receive a plentiful lunch and get to take home all of the fish that you prepared, so it's worth making some extra space in the fridge the night before.
Despite a relatively short duration,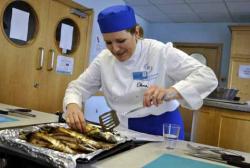 the Monday at Billingsgate course packs in just about as much information as you could hope for. Each demonstration is expertly led and all the teachers are both knowledgeable and extremely helpful. It is worth bringing a notepad though as there are no handouts provided before, during or after the course and if you're like me there's no way you will remember everything that you have been taught.
A very interesting day out and most importantly a great way to learn more about fish whatever level you are currently at, there are courses running at the Seafood Training School almost every day of the week and they range from £50 – £195, with the 'Practical Fish on Monday at Billingsgate' costing £100.