Trinity Square, Axminster, Devon, EX13 5AN www.rivercottage.net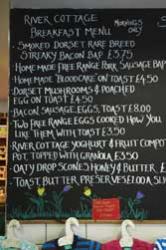 I read a piece in a foodie column last year that talked about finding what many of us epicureans aspire to: finding your all-time favourite restaurant. Not the one you tell people you love, or the one you feel you ought to love, or that Scandinavian one so you'll feel cool among the bloggers. No. The one you'd happily visit on a Saturday evening with friends, and then again on Sunday to stave off the hangover. And possibly again on Wednesday for a quick working lunch.
In London I used to find a 'new favourite restaurant' as frequently as my seven year old now finds best friends. But I've found consistency to be a problem (chefs moving on etc). Plus I've flitted around too often. While there are of course perks of being a food writer, one of the downsides is that you become the culinary equivalent of Belle Du Jour: no loyalty, seen all over town, and happy to just accept the money (if not a fully comp'ed bill).
So what am I looking for in a life-long restaurant relationship? Definitely not gourmet (my thighs would never cope). Consistency yes – but a bit of excitement too. GSOH is a must (preferably from the waiting staff) and I never like saying goodbye feeling short-changed. Clearly I don't ask for much.
Anyway, a strong contender has arisen. Step forward The Canteen in Axminster. Owned of course by Hugh Fearnley-Whittingstal – and don't the queues at Saturday lunchtime show it. Let me show you round. At the front is the deli – effectively Hugh's answer to Tesco's (admittedly with slightly fewer in-store deals and a good deal more Barbour wearing Henrietta's). Great cheese though. At the back, a former skittle alley has been reborn as the main restaurant. Rustic in feel with simple oak tables, exposed brick, and blackboard menus. Despite, I assume, being busy elsewhere with a portfolio of interests, Mr FW's presence is still felt: in the framed photo of hung rabbits, the nettle beer (how to get pissed with a conscience?), the rallying call outside to 'Join Hugh's Fish Fight', and of course, with the menu.
In-keeping with the over-arching River Cottage philosophy of fresh, seasonal and as-local-as-possible food, this changes pretty much daily (which brings with it a lovely sense of anticipation – and I suppose education – on each visit). Fish is featured strongly; whatever the nearby coast has supplied, that's what's you're having. Wouldn't it be great to always eat like this?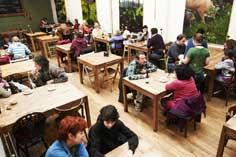 Generally there'll be about three or four starters, five or six mains, and a small handful of desserts. Recent dishes have included Dorset mushroom spelt risotto with pan roasted cold smoked pigeon breast; crispy polenta, roast artichokes and beetroot, with hazelnut pesto; nettle soup with chive yoghurt and hemp oil; crispy breaded line-caught Pollack, yellow pea puree, and some of the best (double) cooked chips I've had in a long time. Not only that but they offer beans on toast for kids. How 'Hugh' is that?
I was introduced to Head Chef Tim Maddams not so long ago. We discussed seasonality, celebrity chefdom (don't mention the c word!), the classic south west larder, and juggling his own larder – tricky when such dogmatic alignment to ethical eating can occasionally throw you a loop, if not a glut of fresh-caught mackerel (which will somehow find its way onto the lunchtime menu within a few sparse hours). Don't underestimate what these guys do here on a daily basis. Tim confirmed what I'd already guessed; a lot of hard graft goes on behind the scenes. Add in the inescapable fact that The Canteen does have a whiff of celebrity kudos (don't even think about coming in high summer; throngs of Hugh devotees weave endless and irate queues outside onto the square)… suffice to say they have their 'silly season'. Book in advance – or simply go off-season mid-week lunchtime, as I do. You'll walk right in.
Five or six visits down the line and I feel I know the place reasonably well. I thoroughly admire The Canteen's ability to pull together simple, seasonal components – executing an exciting, occasionally quirky, and usually generously portioned menu. Not only that but there's a strong focus on matching flavour as well as seasonality – and Tim (along with his team) is truly adept here.
Service is friendly and swift and prices are reasonable too. Expect to pay a fiver (maybe more) for a starter. Mains usually start from around £8. You can track the ebb and flow of that menu via live feeds on Twitter.
But back to that foodie column and what did it conclude? Basically that your favourite restaurant is simply the one you end up in more often than not. And I can pinpoint my own answer just from my bank statements. All The Canteen needs now is in-house Wi-Fi and I may have just found that alternative office space I've been looking for.