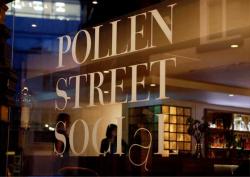 I'm about five seconds away from sitting down to lunch at Jason Atherton's new London restaurant Pollen Street Social when the fire alarm goes off. I sense an opportunity. Instead of being among the first to eat in this much-anticipated restaurant, perhaps I can famously be the last? A dash through the fancy glass sliding doors into the kitchen, a grab of whatever's on the pass ready to go and then outside to swiftly scoff it while the fire brigade stands about squirting things.
No need, it's literally a false alarm. Just as well really as not one customer showed any inclination to leave. People have waited a long time to eat here and they clearly aren't going to budge for anything. I see faces familiar from the 50 Best Restaurant Awards bash here the previous night, perhaps some never even left? Greg Wallace is here too, lunching in a suit so incredibly tight-fitting it seems to be squeezing his head out the top like toothpaste.
Forget Dinner by Blumenthal, this is the new opening the real cognoscenti have been waiting for. A regular sized restaurant in a normal part of town in a cute side street. Serious money has been spent though here you can tell- from the art on the walls to the cobbles on the lower ground floor. As we idle along it later Jason tells me he wanted a Victorian street effect, it's certainly regal. Also impressive is his development kitchen down here with its shelves of must-have books, including the Noma cookbook, the restaurant that just won 50 Best for the second year running.
Of course all the fine design in the world (by designers Neri and Hu) won't plaster over bad cooking. No one's expecting JSS to be bad, the question really is How Good? The room is packed with people and some seriously elegant dishes are going past. The menu is divided into set lunch and then Hot Starters and Cold Starters, followed by a nicely compact list of mains and four or so vegetarian mains. It's a tough choice as, for the first time in ages in a restaurant, I actually have a proper choice of things that sound interesting and different.
We have three starters between two of us; Cauliflower squid with clear roasted juice, Braised Irish Ox Tongue and Cheek with Salt Roasted Carrots and Horseradish and, from the Cold section, Escabeche of Quail, Chicken Liver Cream, Nuts and Seeds.
The first thing you notice is that whilst the idea is to share starters, in practice it's not all that easy. The dishes are not symmetrical so it's hard for two greedy people to amicably divide things up. We both want the squid, Jason explains later that it's frozen before being diced so as to achieve tiny 'risotto-like' parts.
It's incredibly tender and so the contrast with the turnip blackened with squid ink works so very well. The cauliflower actually tastes wonderfully of cauliflower, having been left alone and not pureed or foamed or generally buggered about with, there are some seaweedy/seashore veg floating here and there, with the whole thing bathed in the remarkable juice. A really great, taste-bud tumescent dish, but we should have eaten it last, as it made our plates all black and messy.
The braised tongue is so tender it sighs wistfully when I look at it. The carrots are remarkably robust – not tasteless babies but big boys left large, so much so that one critic mistook them for sweet potatoes. The horseradish mash is such a simple thing but couldn't be more perfect. There are only about four components on the plate, compared to the multi-faceted squid dish , but each enjoys its starring role.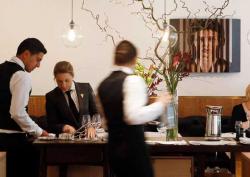 The quail, more of whom can be seen, lined up naked, through the window of the meat room downstairs, is a real return to plate-porn. There's a thin-slice of toasted bread sticking up like a sail and it's been spread with the chicken liver cream. There's the tiny breast, and the even tinier legs, dribs and drobs of rich juice, crunchy nuts and seeds and small pieces of onion that have really enjoyed their pickling. A bird like quail is easy to overcook, the real test is always the breast. No problems here, it's spot on. There's a lot going on here, but it's all going in a straight line to my heart.
Mains aren't cheap, social this place may be but in the restaurant you are unlikely to find any Social Workers eating. My Atlantic Halibut, from the right side of the pond, 'Fowey,' Jason assures me, is served with a side pan of paella plus, 'pork fat' and sprouting broccoli. There was so much in this dish that the menu didn't begin to cover it, but without becoming a small book there's no way it ever could.
Everything was superb; from the perfectly-cooked, juicy, flavour-packed fish to the crisp broccoli and asparagus, the remarkable discs of 'bacon' and the paella itself made, Jason explained, with a rather unique 'live' rice. The only odd note perhaps was the presence of foam, then again Jason is not one to ditch good ideas merely because some people have decided they are passé. This dish was standout gorgeous and that's all there is to it.
I believe M's Cotswold Lamb Sirloin with braised belly, peas salad and sheep's milk curd was equally great. It certainly looked it, and he certainly said so, but I couldn't try any because I was too busy making love to my Halibut and lamb is too dominant to mix with fish.
Desserts are a big thing at PSS, Jason is, like me, a big fan of Singapore's Dessert 3 a.m. bar. We had our desserts at table and not at the special bar designed for it and they were great. So great and so complicated I didn't make notes but just ate. I can tell you this though – Basil, ice cream and Spanish 'ham' makes for quite a wowzer mouthful
So, verdict? What's already apparent is that Jason has melded the elements of inventive, creative 'Feen Deening' with the link so often missing in such food – real flavour. Add to that a relaxed 'vibe' to the New Yorky room – we are not in The Church of Food here, you are allowed to talk and laugh – and it all just feels right.
The kitchen is clearly manned by a top gun team and as Jason said goodbye, his meticulous turn out, pleasant unassuming manner and genuine friendliness all sum up what being Pollen Street Social is all about. The Michelin stars that are coming will simply be the icing on the cake.