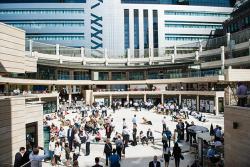 Boasting eleven new restaurants Broadgate Circle – London's newest dining hub – is already hot news this summer. To top it off, Broadgate City of London has recently launched 'Summer Live' – an exciting series of action packed events.
London Contemporary Theatre – Wind in the Willows and Twelfth Night
This August, London Contemporary Theatre has the answer to those hazy summer Saturdays. On 15th August at 2pm and 7pm, visit Broadgate Circle to watch al fresco live performances in the round of Twelfth Night, set against the impressive backdrop of the City. Renowned for creating modern adaptations of classic performances London Contemporary Theatre's music-led productions are a spellbinding introduction to contemporary theatre.
Silent Movies & Foodie Films
Throughout the summer Broadgate will be showing a series of open-air films on their big screen in Exchange Square. Silent movies will be aired during the week throughout August and September including Charlie Chaplin's City Lights and Laurel and Hardy's The Music Box. Saturdays will offer foodie films on 22nd  August and cult classic movie showings on 29th  August and 5th  September.
Stop by at 2pm for a family-friendly film such as Ratatouille or The Goonies, while 6pm screenings will see more grown-up favourites grace Exchange Square, including Chocolat and Top Gun.
Perfect Picnics
Broadgate Circle's many vibrant restaurants will offer the perfect picnic solution, with dishes designed to go and enjoy al fresco. From regional bites at Comptoir Libanais, Jose Pizarro and Shoryu Ramen to light bites from Aubaine and Beany Green, or seasonal sandwiches from Street Kitchen. Alternatively, stop by Street Dots to sample dishes from one of its ever-changing line up of street food vans.
Bernard Heersche, Asset Manager at British Land says: "We're delighted to be hosting our popular programme of screenings and events at Broadgate once again, alongside a brand new mini film festival in Exchange Square. With the addition of contemporary open-air theatre at weekends and the involvement of many of our vibrant restaurants, it's an exciting time to visit Broadgate."
The variety of restaurants, cafés and bars makes Broadgate Circle the perfect place to celebrate summer. With themed menus, outdoor BBQs and street food concept StreetDots serving a mix of global cuisines, there will be plenty of choice for refreshments and locations to grab a bite to eat and soak up the atmosphere. Keep an eye on www.broadgate.co.uk/SummerLive for additional confirmed dates and screen listings.
For more information on Summer Live at Broadgate and upcoming activities, please visitwww.broadgate.co.uk. For more information on Archikids at Broadgate please visit www.broadgate.co.uk/archikids.
15th August: London Contemporary Theatre in Broadgate Circle
22nd, 29th August, 5th September: Film screenings in Exchange Square Weekdays in August and September: Silent movies in Exchange Square
Twitter: @BroadgateLondon
Facebook: @BroadgateLDN