A Vauxhall virgin, Tom ventures underneath the railway arches and is surprised by what he finds…
 
When I think of Vauxhall I think of MI6 and a healthy gay scene – an odd combination really. The truth is, however, that I have never really been there, telling myself that being a straight man, and not s spy, there was little there for me. 
It turns out I was wrong.
Just next to the station, tucked under railway arches, there's a bar and restaurant by the name of Counter. It's all orange and black and serves a long, interesting cocktail menu along with a French/American inspired menu.
It claims to be'London's longest restaurant', which, although an interesting claim, is a slightly irrelevant one. Still, after a quick scan of the menu I was looking forward to going along on a Saturday night.
Quite unassuming from the outside, Counter is well designed within. A long lighting feature sits like a halo above a central bar and a mix of booths and tables fill the rest of the space. We took a table near the back.
Menus are straightforward and appealing. There are no'small plates' and no one has to take the time to explain the'concept' to you. Just six sections; bar snacks, starters, salads, mains, sides and desserts. A reasonable choice for each as well.
I order a bottle of Brixton Brewery beer and my accomplice opts for one of the cocktails; a fairly new addition to the menu apparently featuring gin and green tea. It's different, sweet and bitter at the same time, I'm rarely taken by a cocktail so am not the one to judge but my accomplice seems pleased.
Our waiter is friendly and French but does have the habit of over recommending.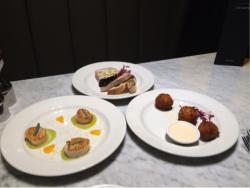 When we order mac and cheese balls as a side he suggests we add them to our starters, when my accomplice orders a side of fries with her steak he suggests Lyonnaise Potatoes and Tenderstem broccoli, and when I order another Brixton Brewery he puts forward a Brooklyn Lager.
This could irritate some a little, but we follow his lead (mainly).
Starters open the meal strongly. Three scallops sit in beds of fennel puree accompanied by a few slices of tangerine. They're cooked to perfection, the aniseed flavour of the fennel and sweetness of the orange acting as the scallop's backup singers rather than trying to take main stage.
Mac and cheese balls crunch satisfyingly and give way to gooey, cheesy pasta. The chipotle mayonnaise-type sauce they are served with is, well it's just right. It should be there.
A third starter (due to recommendation not greed) of chicken, bacon and pistachio terrine is as equally successful as the other two. The redcurrant chutney served along side sweet and moreish.
Counter was surprisingly quiet for a Saturday night, there was others eating and a good crowd around the bar, but from what I'd seen so far it deserved more attention. Perhaps it just needs a bit more time to settle, or maybe people, just like myself, need to re-evaluate what Vauxhall has to offer.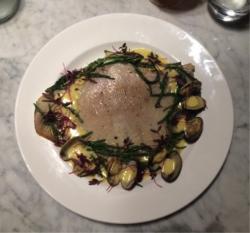 My skate wing main arrived surrounded by samphire, clams and a beurre blanc sauce. It's portioned well and everything is delicious. The buttery beurre blanc is comforting and the fish and clams taste fresh and light. When reviewing food it's easy to be critical but it really is a fantastic main course.
My accomplice's fillet steak is cooked as asked and served with green beans. The meat itself shines with a Café de Paris butter that adds a pleasant herby, salty flavour.
In fairness to our waiter, the recommended sides were worthy of recommendation. Lyonaisse Potatoes are crispy where they should be, snuggling up to well-browned strips of onion. The Tenderstem still has its structure; a sprinkle of chilli flakes giving it an extra reason to be there.
Everything, yes everything, is good. The food is high quality and presented beautifully but there's no wanky descriptions or snobbery. The service is relaxed, yet glasses never go unfilled and all questions are easily answered. It is, as far as we see, a well-oiled machine chugging away quietly under the archway.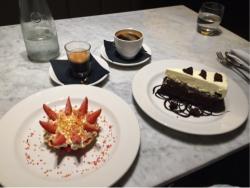 We finish with a gigantic slice of Mississippi Mud Pie and a slightly daintier Strawberry Tartlet.
I'm not planning to make a secretive career change any time soon, and I'm really quite happy with my girlfriend, but I've got a strong feeling I'll be returning to Vauxhall sometime.
The food, service, drinks and atmosphere at Counter were well worth the journey, and they even have a seperate back bar, Backcounter, which hosts events and shows.
After somewhere a little more central? How about tapas in Mayfair