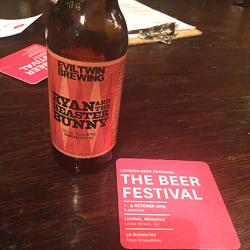 Organised by aficionados and pub operators, The Craft Beer Co., The London Beer Carnival takes place between October 1st and 4th this year, in the vaults beneath London's Waterloo Station.
And in a revolutionary move, the company has turned the festival format on its head by not only refusing to charge breweries to take part, but by paying their expenses in order to ensure that even the smallest independent brewers can attend.
The result is a array of breweries from 16 countries around the world, providing their finest creations during six sessions of beer- tasting brilliance.
What's more, there will be a selection of special creations only available at London Beer Carnival.
And unlike most beer festivals, those attending the final session won't be supping the leftovers from everybody else's fun, because there's 100 fresh, new kegs delivered to every session and when they're gone, they're gone.
The London Beer Carnival is the brainchild of Martin Hayes, MD of Craft Beer Co., who wanted to create an event that would bring the finest breweries together without financial constraints or overbearing sponsors dictating the experience for customers.
Martin says: "Traditionally, beer festivals in this country have always consisted of British breweries paying for space at an event catering for a mostly male audience.
"But look abroad at places like Scandinavia, where the craft beer revolution began, and you'll see festivals where people of all ages, male and female, come together to sample genuinely exciting, brilliant beers. That's what we're bringing to the UK with London Beer Carnival.
"This is the first truly international beer festival in Britain – it's being dubbed'The Beer Festival' because we believe this is the definitive article."
The £50 entry fee will give customers unlimited samples from the 100 kegs at each session, as well as a limited edition glass and brochure with information about each of the breweries at the event – including offerings from the UK, Poland, Norway, Germany, Sweden, Italy, Iceland, USA, Belgium, New Zealand, Ireland and Denmark.
"We've really scoured the whole planet looking for the best breweries and the best craft beers," says Martin. "And the beauty of it is that many of these are not beers that you will find in your local pub any time soon."
"We hope that by inviting them to London Beer Carnival, we're helping them to get a foothold and a customer base in the UK that they'd never otherwise have been able to achieve.
Breweries attending this year's event include Beavertown, a brewhouse owned by Led Zeppelin star Robert Plant's son; Anchorage Brewery, which hails from the wilderness of Alaska; Magic Rock, which set up its brewing operation in a disused seaside rock factory; New Zealand-based Yeastie Boys, which managed to secure $500,000 in less than thirty minutes as part of a Crowdfunding effort; and the brilliantly eccentric and outspoken Evil Twin Brewing from Brooklyn, who recently produced the much talked-about Imperial Donut Break – a beer that tastes of donuts!
London Beer Carnival takes place in The Vaults beneath Waterloo Station, Leake Street SE1, 1st – 4th October 2015 Tickets cost £50.
For more information visit www.londonbeercarnival.com 
7 Fjell Bryggeri – Norway AleBrowar – Poland Ale Mania – Germany
All In Brewing – Sweden Anchorage – Alaska Atom
Beavertown – UK
Beer Here/Pennylan – Denmark Bevog Brauhaus – Austria Birbant – Poland
Birranova – Italy Borg Brugghus – Iceland
Brixton – UK Burning Sky – UK Buxton
Cigar City – USA CRAK – Italy
Doctor Brew – Poland Dugges – Sweden Edge – Spain
Evil Twin – Denmark Extraomnes – Italy Funky Buddha – USA Fyne Ales – UK
Galway Bay Brewery – Ireland Haand Bryggeriet – Norway
Harbour Brewing – UK Hawkshead Brewery – UK Hopcraft Brewing – UK Hornbeer – Denmark Ilkley Brewery – UK
J Wakefield Brewing – USA Jesterking
The Kernel – UK Lost Abbey/Port Brewing Magic Rock Brewing – UK Nomada Brewing – Spain
Northern Monk Brew Co. – UK Other Half – USA
Partizan Brewing – UK Prairie Artisan Ales – USA Sahtipaja – Sweden
Siren Craft Brew – UK Stewart Brewing – UK
De Struis Brouwers – Belgium Thornbridge Brewery – UK Tiny Rebel – UK
Weird Beard Brew Co. – UK Wild Beer Co. – UK Wiper and True – UK
Yeastie Boys – New Zealand
Thursday 1st October: 18:00 – 23:00
Friday 2nd October: 12:00 – 17:00 and 18:30 – 23:30
Saturday 3rd October: 12:00 – 17:00 and 18:30 – 23:30
Sunday 4th October: 12:00 – 17:00