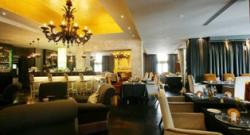 Throughout 2010 Brunello is planning a series of special, fine dining events planned to delight the most demanding gourmets. During the year Brunello will host a line-up of visiting Michelin starred chefs from some of Italy's great restaurants allowing diners the opportunity to enjoy their great menus and culinary expertise right here in the heart of London.
For the first in this series of seasonal guest chef events, much acclaimed chef Pino Lavarra of Rossellini's at Palazzo Sasso, in Ravello on the Amalfi Coast, where he holds two Michelin stars, will present dishes from his menu. Since 2001, Pino Lavarra has been creating dishes for the hotel's guests and visitors keen to sample some of the finest cooking available in that region of Italy. His menu there marries innovation with traditional ingredients.
During the five days he is at Brunello, diners will be able to enjoy dishes such as, 'Tuna steak served with white aubergine puree, souffléd potatoes and a caper scented sauce" followed by, 'Amalfi lemon soufflé" with a raspberry and beer sorbet". Pino Lavarra will be at Brunello for the evenings of 10th, 11th, 12th 13th and 14th March, therefore opportunities are limited. So, if you would like to sample the cuisine of this acclaimed chef on one of those evenings, contact the restaurant on the number below.
Brunello Restaurant, The Baglioni Hotel, 60 Hyde Park Gate, SW7 5BB, Tel: 020 7368 5900