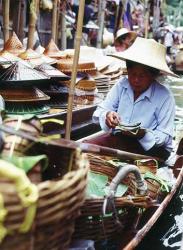 Busaba Eathai are collaborating with Fairground to create a Thai New Year Songkran Festival in the heart of London's East End on Sunday 13th April 2014.
Executive Chef Jude Sangsida explained "Songkran is a time to renew, refresh and cleanse. Part of that is water, so in Thailand we have a big water fight! It's humid and steamy, we find the nearest bucket or buy water pistols and go out into the streets and play."
As water fights in London during April are best avoided, Chef Jude has been busy developing new dishes to commemorate Songkran. Inspired by a recent month long trip through his homeland, his new creations will be unveiled at the Busaba Songkran festival. "The dishes we will share at our celebration will be a blend of some of the rich flavours we found on our trip along with a few we hope to add to the menu in the future."
Resident Wok-Masters Chef Hesh Daud and Chef Sasi Meechamnan will share their skills at free'CookThai' classes held throughout the day. Animal mask making and pandan cupcake decorating workshops will also provide entertainment for the younger foodies accompanying their mums and dads.
Busaba Eathai will be joined by Andy Oliver's Som Saa and Yum Jungle in the Songkran Thai takeover of Fairground.
Busaba Eathai's Songkran Festival will be on Sunday 13th April 2014 at Fairground.
Entrance to the event is free.
Address: Fairground, 260-264 Kingsland Road, E8 4DG.
Operating hours: 12pm to 11pm