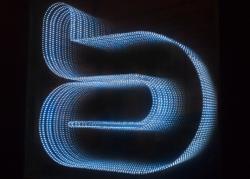 Busaba Eathai, the modern Thai restaurant, is expanding – bringing the taste of Thailand to Covent Garden.
The eighth addition to the London chain will open on Thursday 30 June, in Floral Street; a defining parametre of an area synonymous to entertainment. From the lavish Royal Opera House to talented street performers – it's the long standing home of bustling food and market traders.
To celebrate the opening, and as the latest in a succession of sponsored art projects, Busaba have collaborated with Cure Studio and Hand On Fire to produce an installation named 'Show time on Floral Street'.
The installation incorporates the Busaba logo that has been re-worked with a contemporary twist to reflect the decadent nightlife of Covent Garden's yesteryear. It was on show throughout May and June and will also be displayed at an opening party on 29 June.
For details on all of the Busaba sponsored art projects visit their website at www.busaba.com/gggyprojects