We're with Boris – everybody else gets to have holidays and high days for their saints so why shouldn't we? After all dragons can be a real nuisance when you're trying to get to the shops so it's best they've been made extinct.
So here are a few places you may liketo wave your sword at:
St. George's Day at The Albion
On 23rd April, The Albion in Islington will be hosting what it claims will be the most authentically English St. George's Day event in London.
The pub famed for its English country-garden and hearty, rustic fare will be serving a specially-created St George's Day Menu, featuring iconic English favourites, such as Beef Wellington and St George's Mushrooms with Smoked Sandridge Bacon & Wild Garlic on Toast. As a certified stamp of true Englishness, the St George's mushrooms are widely thought to be a marker of spring in England, only in season from early March until the end of May. They have also been spotted growing in famous English locations such as Hyde Park, Newmarket Heath and Salisbury Plain, making them the perfect culinary choice for the St George's Day reveler.
The Albion is a quintessentially English pub, right down to its name, which is actually the ancient Saxon name for England (literally, 'white cliffs'). Surely there is no better place to celebrate St George's Day this year!
The Albion St George's Day Menu
St George's Mushrooms with
Smoked Sandridge Bacon & Wild Garlic on Toast
Montgomery Cheddar & Onion Tart
***
Breaded Whiting Fillets with Mushy Peas, Chips & Tartar Sauce
Beef Wellington with Bobby Beans, Jersey Royals & Mint
***
Treacle Tart with Clotted Cream
Jam Roly Poly with Warm Custard
Two Courses for £25 or Three Courses for £28
The Albion Public House & Garden
10 Thornhill Road
London N1 1HW
020 7607 7450
www.the-albion.co.uk
---
French Celebration of English National Day with St George's at Elizabeth's of Eastgate restaurant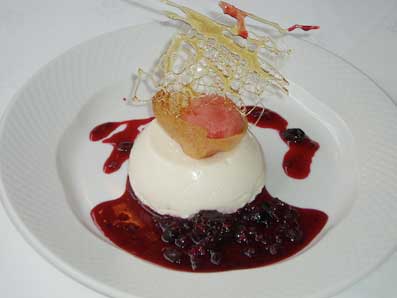 Elizabeth's of Eastgate, Rochester's historic French restaurant is to serve special menus dedicated to the English patron saint on 23rd April. Elizabeth's was quoted in the novel Great Expectations by Charles Dickens, as the home of Uncle Pumblechuck. The 16th century Tudor building retains many original features.
The £30 dinner comprises a Toad in the Hole appetiser; Melon and Prawn starter; Lemon Sorbet; Traditional Roast Beef in a Madeira jus with roast potatoes and Yorkshire Pudding; with a Home Made Banoffee Pie pudding.
Quizzed as to the concept of a French celebration of St George's Day, Elizabeth's, French-born Head Chef: Yannick Fausse said, 'Why not? I love England. I live in England," adding, 'But the best cuisine is French, but that's not to say that it cannot help improved with addition with subtle influences of the best English, Italian and Spanish cooking."
Fausse, who trained in his native Ardennes region of northern France, bordering Belgium, has working for leading restaurants and hotels in Canada, Dublin and London, including a spell with the Michelin-starred patron/chef Richard Corrigan.
Sous Chef, Nic Antoncini is Italian, and previously worked at the Hythe Imperial Hotel.
Proprietor Manuel Mouzo commented: 'Food is an international language and whilst most of ingredients are English, we bring to bear a fusion of modern European influences to an essentially classic French style."
The a la carte menu features starters of Baked Portobello Mushroom, with red onion marmalade, goats cheese and buttered spinach; a Duo of Locally Smoked Salmon with a caper dressing; Home Made Game Terrine with a port reduction and Roasted Whole Quail, Buttered Spinach, Cassis Jus. Mains include Grilled Rump of Romney Marsh Lamb with Rosemary Jus and Lyonnaise potatoes; Fresh Local Dover Sole with tartar sauce and new potatoes; 'Limousin' Cote de Boeuf in a red wine jus. Puddings number Warm Tart Tatin – caramelised apple and puff pastry, cooked upside-down with calvados ice cream; Baileys Parfait with roasted pistachio & hazelnut ice cream, vanilla anglaise; Crepes Suzettes and British cheeses.
A two-course lunch costs around £15.50 and three-course diner £30.
An extensive wine list, featuring old and new world wines has entry-level of £15 but includes the noted Chateau Kirwan 1998 Margaux for £110.00 and Batard Montrachet 2004 Grand Cru at £220.00
Elizabeths Restaurant Tel: 01634 843472
154 High Street, Rochester ME1 1ER
www.elizabethsrestaurant.co.uk
info@elizabethsrestaurant.co.uk
---
St George's Gourmet Dinner in Broadstairs at The Bayside Brasserie
This is a great opportunity to enjoy some excellent food and feel the joy of being English.. There will also be some great English drinks available including the new vintage of Gribble Bridge Ortega Dry from Biddenden vineyards and some fine new bottled beers from the irrepressible Gadd's brewery in Ramsgate!
Muligatawny Soup
(Classic light fresh spicy soup that was 200 years before chicken tikka
massala)
~~~~~~~
Fish Terrine with Horseradish & Dill dressing
(Packed full of local fish and shrimps)
or
Cauliflower & Carrot Terrine with spiced mint & peanut dressing
~~~~~~~~
Iced Apple Snow
(Based on a refreshing Elizabethan Recipe)
~~~~~~~
Fillet of Beef Wellington
(Fillet of beef baked in pastry with pate & mushrooms served with scalloped
potatoes and seasonal vegetables)
or
Vegetarian Wellington
(Arborio rice with goats cheese, peppers, aubergine and artichokes wrapped
in pastry)
~~~~~~~
Jam Roly Poly with Custard
or
Lemon Meringue Pie
or
Marmalade Ice Cream
or
a selection of Local English Cheeses
Please let the restauranrt know in advance if you are choosing the vegetarian
alternatives . There
is a £5 per head reduction if you choose the vegetarian main course.
St George's Day Lunch 2 Courses £7.95
Pea & Ham Soup
Chislet Mushroom & Wild Garlic Crostini
Smoked Mackerel with Horseradish dressing
~~
Braised Beef, Dumplings and Carrots with Mashed Potatoes
Battered Local Fish & Chips
Cheese & Potato Pie with Broccoli
The Bayside Brasserie owner, David Sworder, trained as a chef in south of France and London's renowned Langan's Brasserie in the 1970s. Previous enterprises are Morton's Fork in Minster and the Chequers in Deal, which remain in business. Sworder opened Bayside Brasserie in 2008. Head Chef Tony Davis, who trained at the Waldorf Hotel in London, has worked in many highly acclaimed London restaurants and locally, as head chef at the George and Dragon and Bell hotel in Sandwich. David son Nicky trained at Gordon Ramsay's Noisette.
Nearby 18th century Durlock Lodge, has self-catering accommodation comprising a 2-bedroomed cottage (sleeping 4+2) plus a 2-person studio. Six miles from The Bayside Brasserie the Lodge is in a quiet village location with the renowned Bell Inn and three restaurants within a five-minute stroll.
Situated on the north-east coast of Kent, Broadstairs, along with the neighbouring towns of Margate and Ramsgate are collectively known as the Isle of Thanet, separated from the rest of Kent by the Wantsum. A few miles away is 'White Cliffs Country' including the coastal town of Sandwich, Deal and Dover.
The locality offers traditional bucket-and-spade family holidays and a wealth of upmarket tourist attractions.
54 Albion Street, Broadstairs, CT10 1NF
01843 867150