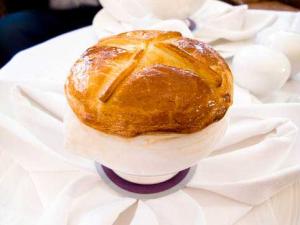 The Cadogan is a bit confusing to get into. There's the main lobby of course, but around the corner is the Langtry's restaurant door.
There's also the Tradesman's Entrance, but using that got Oscar Wilde arrested at The Cadogan some 115 years ago.
The English language's most celebrated whoopsy until Stephen Fry came along, old Oscar liked The Cadogan a lot and enjoyed many a meal, glass of Perriet Jouet champagne and other pleasures there before Mr Plod came knocking at his room door. Would he have been a Tweeter like Stephen, had there been the technology available?
@windermeres_fan. LOL being arrested for gross indecency, cancel milk and absinthe, please feed cat
The Cadogan is justly proud of its association with Oscar and have put on a mini lunch/tea in his honour in, where else, the bar. It will last until the end of the year and celebrates some of his favourite things.
To drink there is the Oscar Absinthe Special, a fairly powerful combination, as well as Hock and Seltzer which turns out to be a posh spritzer and rather good – a tart and astringent drink that really slakes a thirst. And there's Perrier Jouet, of course.
Sipping one or all of these, you get to enjoy a slice of old England in a timeless bar – the muted noise of teacups clinking against plates, soundless waiters wading through deep carpets, plates of crustless sandwiches and the sight of famous screenwriters (well we think we glimpsed one). Plus the occasional American wife staring unhappily at the pint of bitter in front of her, bought under the impression it was what one drank to fit in.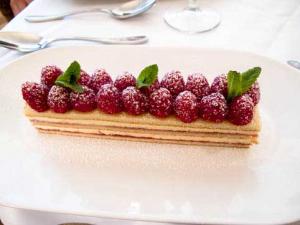 Consommé of Prince of Wales is not in fact liquidised heir to the throne, but a very clear consomme of beef and veal stock with turnip all topped off with a pie crust – En Croute, as we gourmands say. Consomme is a very old and really rather unseen dish these days, it's quite a faff to make, but its adherents in Oscar's day swore by its potential to give energy without filling you up. The crust is really a lid to contain the aromas so the diner gets the full effect at table, but we ate ours because we were hungry. The consomme was very good but as usual burnt my tongue.
The Victoria Sponge that followed was a bit of a triumph visually and taste wise, although washing it down with the absinthe cocktail may not have been such a good idea. A thin slice of cake heaven, laden with fresh raspberries, it was all that cake in a posh hotel should be but far too often isn't.
The Oscar bar menu at The Cadogan is as good a reason as any to experience one of London's best and most historic boutique hotels and it's just a scented hanky's throw away from Knightsbridge and Sloane Square.
The Cadogan 75 Sloane Street, Knightsbridge, London