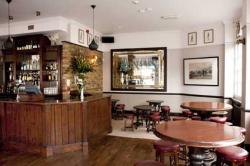 In the last couple of years there has been a growing trend amongst Londoners to flex their grey matter and join in the intellectual equivalent of the Fight Club. From the totally trivial to the horribly highbrow, more and more of us are rounding up our most intelligent mates to prove to our peers just how bloody bright we are.
The new quiz nights at Tom & Ed Martin's recently opened Cadogan Arms on the King's Road have become the hot spot for trivia champions and Chelsea's aspiring intelligentsia. Taking place every Monday evening, this is your chance to have some competitive fun, test your general knowledge and win a £100 bar tab in the process.
No pub quiz is complete without a fresh pint in your hand. Choose from a range of bottled beers and ciders as well as leading cask ales, Adnams Broadside and London Pride both offered on tap, or for those that feel like something a bit more fruity, the vast international wine list had been carefully hand chosen and offers something to suit all tastes.
The mid-quiz interval will give hungry quiz attendees the perfect chance to order some tasty snacks from the bar. Head chef Darius Endriukaitis (formerly of Guy Ritchie's The Punch Bowl in Mayfair) offers a separate bar menu of soya glazed crispy pork belly with apple purée, home-made spiced root vegetable crisps with minted yoghurt and salt and peppered squid, sweet chilli sauce amongst other tempting dishes.
Before or after the quiz, truly competitive games junkies, can head upstairs to what was the original Billiards Room, which has been brought back to life with three American eight-ball pool tables and is available for an impromptu game or two.
The Cadogan Arms quiz takes place every Monday and costs £2 per person to take part. The winning team each week will scoop a bar tab of £100.
The Cadogan Arms 298 King's Road, London, SW3 5UG
The Cadogan Arms pub quiz takes place at 7.30pm every Monday.
The quiz is £2 per person and teams can have a maximum of six members.
The winning team will receive a £100 bar tab to spend at the Cadogan Arms.
Contact Nadia to register your team: nadia@etmgroup.co.uk/07879 665 836.