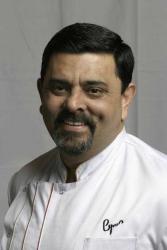 On Tuesday 16th November Café Spice Namaste are celebrating their 15th birthday supported by Champagne Tattinger. The landmark Indian restaurant and family-owned Champagne House are commemorating the anniversary with a feast to fight hunger.
Owner and Chef Cyrus Todiwala decided he wanted the proceeds from the evening to go to the Action Against Hunger charity and asked long time supporters Champagne Tattinger to supply the beverages. Cyrus said "This is a wonderful challenge, matching fine Champagne with Indian food, because Pervin and I have been used to seeking out new dimensions in food throughout our 15 years. I'm looking forward to thanking all our customers and supporters by preparing a menu fit for Champagne lovers. Hopefully they will realise that our cooking is ideal for the most refined wines."
Tattinger's signature cuvée the Brut Réserve NV will be served at a Champagne reception alongside a selection of gourmet Indian canapes. A multi-course menu will follow featuring seafood and meat, including game from Game to Eat, and will be matched with Tattinger's different champagnes.
Tattinger's family representative in the UK Justin Llewelyn will introduce each wine and a specially selected champagne to compliment the dessert.
Emma Cullingford of Action Against Hunger is already excited about the one off event saying, 'We are thrilled and honoured to be the beneficiaries of Cafe Spice Namaste's 15th birthday celebrations. Cyrus and Pervin have been such strong supporters, using their wonderful food to help highlight the work we do. We're also pleased that Taittinger, our corporate sponsor, and Game to Eat have thrown their hats in the ring – we look forward to a wonderful evening!"
Tickets for the dinner are £75 per person with proceeds from the evening going to Action Against Hunger.