It has been suggested that I would go to the opening of a bottle and well, it's sort of true, in this event anyway. Vagabond, a new wine merchant, opened to the public recently and I was asked along to their official launch. How could I turn down such an invitation?
Vagabond occupies a corner spot in Vanston Place, Fulham and as you enter the shop it has a very open feel about it. Most of its wall space is given over to pressurised cases that not only display the range of wines they stock, they also are capable of dispensing what I believe are 25cl shots of any, or all, of them. Needless to say, this does come at a price; in order to taste the wines customers will need to buy a Card with money loaded onto it, a bit like a boozy oyster card and can sample any of the range of wines at 50 pence a shot. The machine deducts this from the card just before delivering the taster. I have to say, I love the concept. The only wines that are not able to be sampled in this way are the sparkling range, which, of course, wouldn't work under pressure.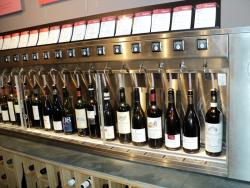 The idea of this is that customers will be able to try a wine that they are considering buying before they commit to purchase, thereby ensuring they know what the wine will taste like when they get it home. To help the customer the wines are arranged according to character, from crisp whites to the more full bodied reds and every type in between. There are helpful tasting notes above each of the wines displayed, which the customer can take away should they wish. This is a brilliant concept that allows customers who are uncertain about their wine to browse at leisure in an unthreatening environment, taste and eventually choose a wine that they are happy will go with what they plan to eat or will be right as a gift for someone on a special occasion.
I understand that Vagabond's staff will be on hand both to explain the workings of the machines, which are pretty straightforward anyway and to guide customers through some possible options should they like help. This is a great step forward from being reliant on advice from the man behind the counter in the local 'offie', who, it has to be said, probably knows no more about the wines than their customer on many occasions. How many times have we been hassled by the assistant when browsing the rows of wines looking for something special – 'can I help you sir?' (meaning 'oh do hurry up' – or something like that) only to end up choosing something we've had before, simply because we know that it's OK, or will do for the occasion? And how many times have we picked up a bottle and thought 'that looks interesting' only to find that it wasn't at all? Vagabond, in giving you the opportunity to taste all of their wines, including some that retail for as much as £75 a bottle are seeking to demystify the business of buying wine letting their customers choose something they know is right for them, because they have tried it.
Did I try any of the wines from the display? You bet I did and there are some excellent ones to select from, some of which I might not have tasted if it weren't for the opportunity presented by the Vagabond machines. Although their wine range is their principal product, Vagabond also stock a limited range of the higher end spirits and beers, many of which look very inviting. If you live in the vicinity, why not pop into Vagabond, try and perhaps buy some of their wines. It's very different from the average Off Licence.
Vagabond, 18-22 Vanston Place, Fulham, London, SW6 1AX www.vagabondwines.co.uk