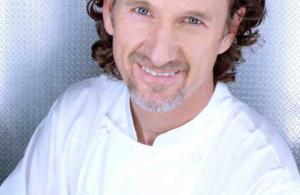 Whether you're a self defined foodie or a take away fiend, the chances are that somewhere in your heart lies a little bottle shaped soft spot for Heinz tomato ketchup. Most people, me included, think of it as a sauce, a condiment or an accompaniment not as an ingredient to be used in cooking, but Heinz are looking to change that.
Heinz are working with celeb chef Paul Rankin to promote Heinz tomato ketchup as a 'secret ingredient' and have launched a new interactive website to encourage the public to cook up tasty recipes from scratch using the secret ingredient, Heinz Tomato Ketchup.
We caught up with the Paul Rankin to find out why he's backing Heinz's Secret Ingredient campaign and generally discover how he feels about one of the nation's favourite sauces.
According to Paul "Heinz tomato ketchup works well in tomatoey, ragu recipes, bolognese, and stews, plus there are some vegetable soups it might suit. You can also use it in tomato soup to add depth of flavour. It's really good in dishes where you need a sweet and sour edge. Also using it in gamey or pork sauces can work well."
Hearing on the grapevine that top chefs use tomato ketchup in professional kitchens, I wanted to find out from Paul whether this was indeed true. He answers with a knowing tone, saying "There's never been a kitchen that I've worked in that hasn't used ketchup. When I was working in three star Michelin kitchen's it was used more than I care to let you know."
Naturally intrigued by the idea that this is 'standard practice' in some of the world's top restaurants, I asked what dishes exactly chefs are putting tomato ketchup into and got the answer "You know before chefs finish a sauce they'd add a seasoning, like they'd add stock, sugar or honey, maybe a little bit of wine reduction or lemon etc? That's how chefs use tomato ketchup. And because ketchup has that sweet salty thing it's often the way to just pep things up. It has that cooked richness rather than that raw thing the tomato taste can have."
Having established that chefs don't think twice about adding a blob of ketchup to a sauce they've slaved over, what I wanted to know was whether Paul himself preferred it on it's own or as a component in a dish. In reply Paul says rather sheepishly "Erm….me personally I'd probably prefer it straight. For me it's sort of a chip butty thing."
After a short pause he continues, "But from a cooking point of view I think it works really well in a lot of those asian fusion sorts of dishes, you know. But only a bit, if you overload it it becomes clumsy. The top Chinese restaurants use it a lot in that sort of stuff, but they only use a little bit of it. Not exactly a tiny amount, but depending on what they're making, it can really be anything from 2 to 15% of a sauce."
The days when Heinz tomato ketchup was unrivaled are long gone and this made me interested to learn if Paul thinks that there's any difference between the various brand's versions of tomato ketchup. His answer to the question is what I expected, he says "I always think it's the quality and consistency and deliciousness of Heinz that works for most people. I think if restauranteurs are going to use it they want to use the best so….You wouldn't want to mess around with stuff like that. You can always tell when you go to these burger joints and stuff that refill their heinz bottles with some cheap ketchup. You know my kids, and wife and I can always tell!"
After rather unsurprisingly finding out that Paul thought Heinz was the premium brand, we moved onto another hotly debated issue; glass bottle or squeezy plastic. Straight away Paul declares which side he's on, saying "No brainer, honey! I'd go for the squeezy all the time. I tell you those glass bottles bring me out in a cold sweat! After using that bottle for 40 years I haven't figured out yet how to get the right amount of ketchup out of it. Maybe that's just me. The glass bottles are a bit like Coca-Cola bottles; they're a beautiful, iconic thing but they just don't work real well."
When asked if he had any special ketchup memories, Paul thinks for a few seconds and answers warmly "Erm….My wife was born in the states and raised in canada and my biggest ketchup memory is being stunned by how much tomato ketchup she used all over the place! When I first met her it was like, is there no other sauce in the world for you than heinz tomato ketchup? It was like ketchup on this, ketchup on that, you know."
And did Paul's wife's taste for the red stuff rub off on him? "She still eats at least 3 times more ketchup than I would, definitely. I mean, I have places where I like ketchup and it's the quality ingredient most people have in their kitchen, but it's not for everything, but she thinks its for everything."
If you want to see what all the Heinz secret ingredient fuss is about then try some of the recipes below:
Tomato Ketchup Cake
Serves 12
Cooking Time: 30minutes
Prep Time: 20minutes
450g plain flour, sieved
2 tsp baking powder
1 ½ tsp cinnamon
1 tsp bicarbonate of soda
½ tsp ground nutmeg
½ tsp ground ginger
125ml Heinz Tomato Ketchup
125ml water
2 tbsp natural red food colouring (optional)
175g butter, softened
350g dark brown sugar
2 eggs
For the frosting:
175g cream cheese, softened
175g butter, softened
1 tsp vanilla essence
500g icing sugar
Method
Preheat the oven to 180°C. Grease two 23cm round cake tins and line the bottoms with baking parchment. Mix the flour, baking powder, cinnamon, bicarbonate of soda, nutmeg and ginger into a bowl.
Stir the Heinz Tomato Ketchup, water and colouring in a separate bowl. Set aside.
Beat the butter and sugar in a large bowl until smooth. Beat in the eggs, gradually. Add the flour mixture and ketchup mixture. Beat slowly, scraping down the bowl as needed, until combined.
Beat at high speed for 1 minute. Divide the batter evenly between the prepared cake tins. Bake for 30 minutes or until the centre springs back when touched lightly. Cool the cakes for 15 minutes before turning onto a rack to cool completely.
Frosting: Beat the cream cheese, butter and vanilla for 2 minutes or until smooth. Gradually beat in the sugar, scraping the bowl as needed. Beat at high speed until fluffy. Fill between the cake layers and over the sides and top of the cake.
Sweet and Spicy Vegetable Curry
Serves 4
Cooking Time: 15mins
Prep Time: 15mins
2 tbsp vegetable oil
1 large onion, roughly chopped
1 tbsp hot curry powder
1 tsp ground coriander
1 tsp ground turmeric
130g button mushrooms, roughly chopped
1 red pepper, deseeded and finely chopped
2 courgettes, roughly chopped
250ml Heinz Tomato Ketchup
400ml low salt vegetable stock / low salt stock cube
freshly ground black pepper
250g rice
Method:
Heat oil in a large frying pan and add onion with the spices and cook until onion is softened – this takes about 5 minutes. Add mushrooms, peppers and courgettes and cook for a further 2 minutes. Stir in Heinz Tomato Ketchup and
For loads more recipes visit