I've been banging on about Indian Zing since I first popped its roasted gram flour and cumin poppadoms into my greedy mouth three years ago. I've spent the last two Christmas days there and use any excuse – visiting relatives, friends coming to stay, feeling a little peckish – to pop back.
It all starts with the complementary shot of, well, it depends on the season. I've had a light, cool, refreshing and slightly zingy whizz of tomato, cucumber and coriander on a hot summer's day and a hot but subtly spiced, smooth slurp of lentils with cumin just after peeling off my thick fur lined gloves and twists of scarves after an icy walk along the river on an unexpectedly cold October evening.
With a menu which frequently focuses on specific areas of India or a style of cooking – its Maharashtrian festival celebrates the food of Mumbai; there's an annual byriani festival – falling back on old favourites is almost impossible. But I find it hard to resist the prawn and aubergine kharphatla. Beautifully presented on a banana leaf, large succulent king prawns glisten pinkly next to a generous and unctuously rich mound of smoky aubergine and caremelised onion. A starter made in heaven in the heart of Hammersmith.
For me, Indian food is all about sharing in a what's-yours-is-mine kind of way. I want a mixture of colours, strengths of spice, crunch, chunks, smooth and juicy. Nilgiri lamb is full of flavour and a darkly spiced contrast to the cashew nut sweetness of saffron chicken korma. I hope it isn't long before I can try the lobster balchao, a goan dish that promises to be at my favourite level of spiciness.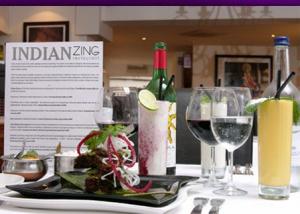 Side dishes are unusual and exotic – dudhee bhopia and chana (bottle gourd and pumpkin cooked with lentils, tempered with mustard seeds and a lemon and ginger rice – as well as reassuringly familiar though never prosaic. A choice of dals, bread of the day (perhaps stuffed with red onion and coriander) and an inventive raita (mixed with aubergine, tomato, carrot and cucumber) confirm that this is much more than a neighbourhood Indian.
Vegetarians are not expected to confine themselves to main course sized side dishes – though they wouldn't be short-changed if they did. Three starters, three mains and a vegetarian thali give non-carnivores a refined choice. Meloni tarkari (spinach and dill), dum ghobi mutter (cauliflower and peas) and chana masala (chick peas with onion tomato and dry mango powder) are all so much more than the sum of their parts – and a far cry from their curry house versions.
Puds always include chef Manoj Vasaikar's take on an English classic: perhaps tandoori fig and organic apple muesli crumble or masala multi-seeded bread and butter pudding. Its Christmas pud, with a light lemon zest and cinnamon custard, is the best I've ever eaten. I love the mango, roasted coconut and saffron kulfi but last night's treat was a perfect ball of gulab jamun (a caramelised dumpling) and a scoop of vanilla ice cream decorated with glistening silver leaf. Presentation here is always top notch.
The broad, globe-spanning wine list includes India's own Sula sauvignon blanc and shiraz, both of which I've had again and again.
This is contemporary Indian cuisine at its very best – stylish but unpretentious, high class but reasonably priced and served with friendly warmth and knowledge. Oh, and the loos are well worth a visit. Isn't it time you booked a table and got on the District Line to Ravenscourt Park?