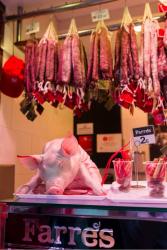 Looking for some cultural inspiration this May Bank Holiday weekend? Well perhaps Campo Viejo has the answer. The brand is bringing the vibrancy, life and colours of Spain to London's Southbank Centre with its'Streets of Spain' festival – a four day celebration of modern Spanish food, wine, art and culture.  
Running from 3rd – 6th May 10.30am to 7:00pm, the festival promises to bring the bustling energy and tastes of Spain to London by welcoming market stall owners from Barcelona's world-famous La Boqueria food market to the UK for the first time ever.  Bringing fresh produce and tapas direct from Spain, the event will be the first time people will be able to buy the famous offerings here in London. The festival also impresses with a myriad of authentic Spanish experiences, such as wine tastings straight from the Campo Viejo cellar door hosted by winemakers; art demonstrations by famed street artists Okuda and Remed; films as showcased at the Spanish Film Festival; and authentic Spanish tapas prepared by La Boqueria chefs. 
Following the daily bustle of the market, the Streets of Spain will transform each evening into an exclusive pop-up restaurant hosted by Michelin-starred Spanish chef, Angel Pascual. The Campo Viejo pop-up experience will offer food and wine-lovers a world-class Spanish menu designed by Pascual, matched with wines from the UK's favourite Spanish wine brand, Campo Viejo.
The Campo Viejo Streets of Spain festival offers the following colourful Spanish experiences: 
–          Masterclasses:
Blend your Own Wine: Attendees will have the chance to become a winemaker for an hour.  Our winemakers will explain the fundamentals of a great tasting Rioja, demonstrate what this could look like and then our fledgling winemakers will be able to try it for themselves. The ingredients will include young and aged samples, the key grape varieties and regions of Rioja. Their final blend will then be blended by the winemakers and bottled for them to collect and take home at the end of the day with their own personalised label. Places are very limited.
Introduction toSpanish Wine: Winemakers will offer information on the Rioja region, Spanish grape varieties and styles, as well as wine busting a few myths and answering all those questions you have always wanted to ask. Attendees will have an opportunity to taste the full Campo Viejo range of red wines including Tempranillo, Reserva, Gran Reserva and its super-premium Dominio de Campo Viejo, together with two Campo Viejo Cavas.
Taste Experience – Looking at how taste influences wine perception: This will be a guide to discovering the effects of basic tastes – acid, sweet, salty, bitter and umami – on tasting different wines using two popular Campo Viejo products; Tempranillo and Gran Reserva. Lucky attendees will be treated to some unusual, controversial but sensational food and wine combinations: red wine and desserts or fish anybody? This session will make you think completely differently about food and wine matching and open your eyes up to the wealth of possibilities.
Advanced Spanish Wine Masterclass: Campo Viejo Winemakers will host a Tempranillo masterclass, which as the name suggests will immerse attendees into the delights of the noble grape variety of Rioja. Tutored by our experts, attendees will compare wines from different sub-regions of Rioja – including Rioja Baja, Rioja Alta and Rioja Alavesa – showcasing the diversity and richness of both Rioja and Tempranillo. There will also be an opportunity to try our new vintage; Campo Viejo Tempranillo 2011. Additionally attendees will be able to taste the other Riojan varieties (Garnacha, Mazuelo and Graciano) and understand the differences between wines aged in French and American oak.
Spanish breakfasts served daily from 10.45am
–          Live art experiences:
Campo Viejo will partner with two famous artists, Okuda and Remed, at the Streets of Spain event
They will be creating a live piece of art outside the Southbank Centre inspired by the Campo Viejo brand, and will bring Spanish colour and vibrancy to the Festival Village with a number of 3D installations that will be on display throughout the weekend
Michelin star pop-up restaurant each evening from 7pm to 10:30pm.  To reserve a table, visit the Campo Viejo Facebook page. 
Five course food and wine match menu for £65 per person 
–          Cinema viewings of celebrated films previewed at the Spanish Film Festival
For more information and to book masterclasses and a table at the pop-up restaurant, visit www.streetsofspain.com where you will find the Streets of Spain tab on the Campo Viejo Facebook page. Also see Twitter at #streetsofspain for more information.