On the beach
Watergate Bay
Cornwall TR8 4AA
It's not so much that the restaurant is situated on the beach; as the beach is situated around the restaurant.
Deep golden sand, sea blues of unparalleled intensity and a sky that goes on forever sharpen the appetite to a level that can only be answered by the best culinary expertise.
Thus 'Fifteen Cornwall' presides authoritatively over the breathtaking stretch of Atlantic coastline that is Watergate bay.
More than just a restaurant, Fifteen is a social enterprise, a statement of intent based on Jamie Oliver's original idea that socially disadvantaged young people could be offered the chance to train at the highest level and be launched into life-changeing careers in the world's best kitchens.
His name may be all over this restaurant but Jamie does not own it, he puts no money into it, gets no money out of it.
Effectively, it is a franchise of Jamie's idea which is owned by the 'Cornwall Foundation of Promise Charity'.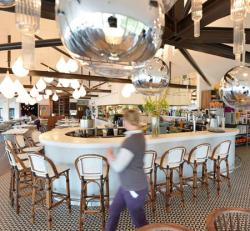 I go along to sample the three course lunch menu entering the lofty, beamed space beneath the new flights of globular pendant lighting and through an informal bar dining area that hopes to tempt visitors into the Italian style antipasti-nibbling culture.
The menu is comfortingly recognisable as 'Italian Rustic' and choosing can be hard, especially as the youthful and dynamic front of house team are adept at whisking you into a state of excited anticipation for each and every dish.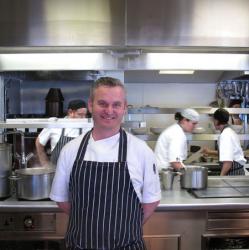 The Head Chef Andy Appleton is a man steeped in Fifteen history who was part of the original team launching the concept in 2002.
Andy's kitchen is entirely open and has recently been re-designed and re-fitted at a cost of a quarter of a million pounds.
From the dining area he can be seen presiding in traditional 'Head Chef' style over his team of black-hatted professional chefs and and white- hatted apprentices.
"Italian with a Cornish twist" is what they like to call their food; and the description perfectly describes the style, eighty percent of the produce used at Fifteen is sourced in Cornwall.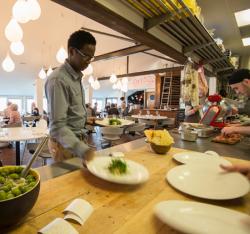 The three course set-lunch option is concise, varied and economical, providing a great value entry into the menu.
I go straight in with a starter of mozzarella, pear and walnuts. The pear, lightly grilled in the new Josper 'barbeque style' oven, is unexpectedly earthy and austere.
The mozzarella, textured and richly flavoured, is judiciously enlivened with the barest addition of seasalt and glazed with a high quality, bright green olive oil that glosses the lips in savoury style.
The walnut crumbs add a woody fragrance to a whole that is definitely greater than the sum of its parts. For me it's the perfect kind of hors d'oeuvre; light, coherent and surprising.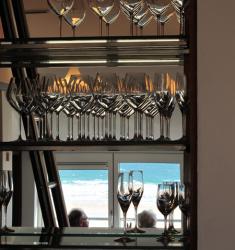 My recently re-kindled enthusiasm for pork is fully ignited by a choice of main which is unpretentiously listed on the menu as as 'pork-polenta-salsa verde'.
A single cut of meltingly delicious pork belly with nigh-on perfect crackling sits on a bed of creamy white polenta. The light, sweet succulence of the meat is blissfully married to the polenta's length of flavour derived from the infusion of parmesan and olive oil.
Please Sir, can I have some more?
For dessert, for me the standard test of any kitchen's skill, the panna cotta, which arrives wobbling flirtatiously is accompanied by an almond and fruit Florentine biscuit and tiny sticks of rhubarb.
It's a delightful and contrasting trio, the panna cotta itself distinguished by a classy mix of deep vanilla, yielding texture and fluid viscosity.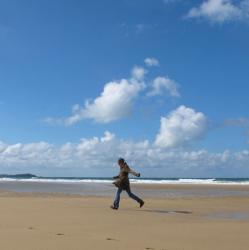 With food of this quality on offer it is difficult to know where to stop; and in combination with a very nice looking wine list chosen by aspiring Master of Wine Gordon Lawrence, it may be easy to run up a hefty bill at Fifteen. However, it's worth remembering that the exhilarating walk on the beach afterwards comes absolutely free.
Prices start from £4 for Antipasti, from £18 for main courses on the dinner menu, and from £60 per head for the Chef's Menu.
Three course set lunch menu £28. To make a booking contact the reservations team on 01637 861000 or visit www.fifteencornwall.co.uk