I really don't like picnics. All the preparation, the mess, the fuss, the sunshine the packing up…it's just not my idea of a good time. So you're probably wonderin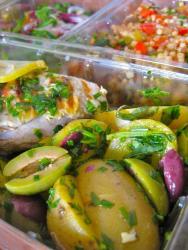 g why someone like me reviewed Carluccio's recently launched Summer Picnic Hamper. It's a fair query I suppose but what's the point of preaching to the converted?
I had romantic notions that the hamper might come in a rustic picnic basket, perhaps even presented by a rosy-cheeked Italian nonna, but instead it came zipped up in a rather compact, bright Carluccio-blue cold bag. Ok, so it wasn't pretty, but it was smart, exeedingly practical, and for those actually going to a picnic, essential.
On the outset, I was not blown away by the blue bag, mainly because it promised nothing and was a little on the small side. But once I'd got the unassuming blue bag home and unpacked, I had stacks of containers full of Carluccio's food on my kitchen counter. The 'Classic' hamper is designed to be a three course meal for two, but, if you threw in a loaf of crusty bread, there would be more than enough food for four people. There were boxes of salad, tarts, chicken and even a little packet of Carluccio's chocolate thrown in for good measure. They'd thought of everything from paper plates to plastic cutlery and even some chic bright-blue paper napkins. It was shaping up to be my kind of picnic; the kind where you don't have to do anything but unpack it and eat until you have to unbutton your jeans.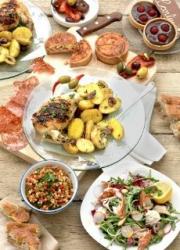 Spread out before me was an abundance of Italian delights. Antipasti Misti, a dish of succulent olives, balsamic onions, roasted peppers and salamis from Napoli and Milano. A green leaf, radish, caperberry and smoked mackerel salad with lemon dressing, then two Torta Mediterranea, savoury tarts filled with aubergine, courgette and tomato. Next came the Pollo al limone e timo, a summery chicken supreme served with a refreshing combination of saffron and olive potato salad. For dessert I went all misty-eyed over the Torta di cioccolata e lampone, individual tarts with dark chocolate ganache and raspberries.
I also got to sample the Vegetarian alternatives including red wine and radicchio focaccia and Insalata di fregola, a Sardinian pasta salad with red pesto and summer vegetables which was fresh and tasty and perfect for a summer's day.
Not only did every thing in the hamper taste great, but it also looked fantastic. There was great care taken to assemble this hamper and it really did exceed my expectations. For £45, the Carluccio's Classic hamper combined with a crisp, chilled white wine and a sunny day, would make a picnic outing or lunch on the terrace an absolute delight. I think I may have been won over to the picnic lifestyle after all.
Carluccio's picnics are available in restaurants until Friday 30th September. Hampers will be available to pick up from all restaurants. To avoid disappointment, please order at least 24 hours in advance.