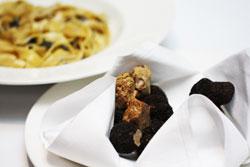 With truffle season now well under way, why not celebrate this revered, posh fungus at a variety of London-based establishments?
In the city, Coq d'Argent offers a bespoke truffle pasta dish experience, allowing customers to choose whether they would like white or black truffles with their pasta.
For a more grungy truffle experience (if that isn't an oxymoron), REX Grand Café at Bank will be serving a dirty truffle sandwich for breakfast throughout November. A side of fried egg with white truffle shavings completes the dish.
For something a little more opulent, Mayfair-based Sartoria will be hosting a five-course truffle dinner on 12 November, with dishes such as barolo braised beef with truffled polenta.
Finally, Canary Wharf's Plateau is serving a winter salad of beetroot, celeriac, crispy duck skin tossed in a truffle dressing.
With such a range of dishes at various establishments, there is something for everyone to indulge in; go on – treat yourself.