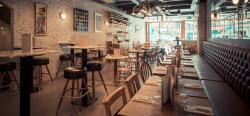 Sometimes the best part of a pub evening is time spent waiting for a terminally late friend, glass in hand, idly leafing through your current commuter-book-of-choice. Within reason (you generally have to be able to focus on the words) the marriage of alcohol and reading is a happy one – making the sentences seem cleverer and the drinking more civilized.
Imagine our delight then, when we heard about a pop up cocktail series at Soho's basement bar Central & Co. revolving around four classic novels. Each week will attack a different timeless tale, with scene-setting props and themed cocktails.
The four-week sojourn into the land of literature via the medium of mixology will take in George Orwell's Animal Farm, Fitzgerald's Beautiful and The Damned, On the Road by Jack Kerouac and Robert Louis Stevenson's Treasure Island. Props such as pig's heads, a scattering of straw, vintage lamps, old maps and dusty skulls will help depict the week's theme.  
The bar will be manned by James Grant, a bartender making his name on the London cocktail scene with recent stints at Rotary Bar & Diner and the Gin Store at Street Feast. The weekly changing cocktail list, created by James and inspired by the four books, will include the'Scotch Old Major','Patch Reviver No. 2′,'Cadillac Sazerac' and'The Silver Swizzle'.
Drink the Classics at &Co. kicks off on Wednesday 18th September with Animal Farm and will run every Wednesday to Friday until Friday 11th October. We say grab a terminally late friend, a dusty old novel, and head on down.