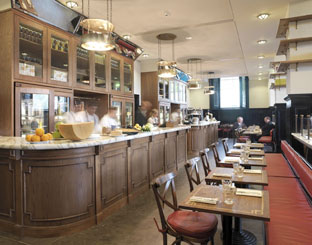 From 25th February to 7th June, The National Café is celebrating the 'Picasso: Challenging the Past' exhibition at The National Gallery with two limited edition Iberian menus and a fantastic £10 offer on some very special Spanish wines.
As the gallery explores Picasso's response to works by painters who had gone before him with this historic collection of some 60 pieces, The National Café invites visitors to take advantage of a discount of over 50% on a bottle of three fantastic Riojas*. The single vineyard wines from Dinastia Vivanco will be available for just £10 a bottle when enjoyed alongside typical dishes from the country. This means a huge reduction of £11 on the regular price of a bottle of Vivanco Rioja Blanco Viura/Malvasia 2007, Vivanco Rioja Rosado 2007 or Dinastia Vivanco Rioja Crianza 2005.
To accompany these fine wines, The National Café has curated two showcases of sublime Iberian dishes. Starters on the Spanish set menu feature a tempting Andalusian almond soup ajo blanco; and moreish salt cod croquetas with smoked paprika aioli. Two main course highlights are a succulent grilled seabass with stewed peppers, fennel and saffron; and a gratifying crisp pork belly with morcilla and broad bean purée. For an indulgent ending to your meal, you would be hard pressed to find desserts more comforting than crema Catalan or the nougat-like turron with rice pudding. The Spanish set menu is excellent value for money at £18.50 and £21.50 for two and three courses respectively.
As a lighter option, the selection platter of Spanish charcuterie and cheese features at £10 includes the naturally cured, award-winning Jamon de Teruel DO Gran Aragon; Salchichon Iberico de Extremadura produced from acorn-fed semi-wild Iberian pigs; the hard, ewe's milk Basque cheese,Idiazbal; and Garrotxa, the recently revived Catalan goat's cheese.
To enhance the experience of the National Gallery's Friday late night opening, The National Café also will be hosting a pop-up bar in the gallery's Central Hall, where visitors will be able to enjoy a glass of the selected wines from 6pm to 8.45pm.
For those more drawn to British cuisine, both The National Café and The National Dining Rooms continue to offer their usual range of the finest dishes from closer to home. From bountiful full English breakfasts, light lunches and refined afternoon teas, through to splendid suppers, the two celebrate the culinary art of this sceptred isle.
The National Café, East Wing, The National Gallery, Trafalgar Square, London WC2N 5DN
020 7747 5942
*£10 wine offer applies when also ordering from the Spanish Set Menu or selection platter of Spanish charcuterie and cheese.
Valid from 5pm until 27 June 2009.
Wines included in offer:
Vivanco Rioja Blanco Viura/Malvasia 2007, Vivanco Rioja Rosado 2007 and Dinastia Vivanco Rioja Crianza 2005, usually £21 a bottle.
Spanish Set Menu £18.50 / £21.50 (2 / 3 courses)