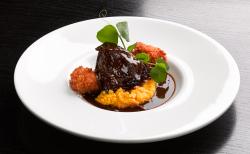 Chocolate came to Europe via sixteenth-century Spanish conquistadors, while the Romans valued Malbec, not for wine, but the blossom which attracted honey bees. These facts were recounted over a leisurely master-class held at the moodily-lit Cavas de Gaucho at their flagship Piccadilly restaurant, Swallow Street.
In order to trail nationwide initiatives occurring during Chocolate Week (14-20 October), the specialists in steak and grape assuredly partnered conched bean and fermented grape.
Pamela Villar, Executive Dessert Chef for Gaucho explained to Foodepedia that her Chocolate Week menu, which includes trio of pork (slow-cooked pork belly, white chocolate and vanilla mash, braised mole pork'matambre' and crispy chocolate crackling) took six months to devise (£65 pp).
It worked well in conjunction with a matching session whereby Head Sommelier, Zack Charilaou looked at the art of Malbec and chocolate matching (for maximum 14 people at Gaucho Piccadilly, £30pp, 14-18 October).
In addition to the menu and matching, Mixologist, Ian O'Reilly is hosting chocolate soirées where guests will explore cocktails, Coco Rojo, Piola and Moka Martini, at Gaucho's Argentine Cocktaiil Bar, Galante, South Kensington (Monday- Saturday, £30pp).
In addition to the formal events and menu, all diners at Gaucho will receive complimentary Malbec-flavoured chocolates during Chocolate Week.
Book masterclass, Chocolate and Malbec: Niamh Sugrue, 020 7734 0888
Book a Chocolate and Cocktail Evening: 020 7584 9901
Book the Chocolate Week menu: www.gauchorestaurants.com