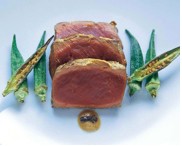 The guns are loaded, the wellies are polished and Prince Philip has a dangerous glint in his eye. The game season approaches and the kitchen brigade, at Westminster's fine dining Indian restaurant The Cinnamon Club, is buzzing with the excitement of preparing dishes using some of the UK's finest wildfowl and deer. A regularly changing menu, overseen by Executive Chef Vivek Singh, the game menu boasts pheasant, partridge, venison, deer and grouse depending on availability.
Traditionally banned across the subcontinent since the 1950's, hunting and many of its associated recipes have tragically been lost along the way. Keen to re-establish many of these dishes with his own contemporary twist, Singh has created a range of rich and complex game dishes .
Starters
Char grilled partridge breast with peanut and dried mango, green lentil soup (Oct-Feb)
Green spiced pheasant breast with Thai red curry sauce (Oct-Jan)
Venison seekh kebab with smoked paprika raita (Sept-Mar)
Mains
Mixed game kofta with baby morel and saffron sauce (Sept-Feb)
Clove roasted grouse breast with home-style pumpkin pickle, onion seed paratha (Sept-Dec)
Jungle curry of pheasant legs in roti bake (Oct-Jan)
Rajasthani roast saddle of 'Oisin' red deer with masala beets crush (Aug-Mar)
Served from the glorious12th onwards, the game menu sits alongside the à la carte and is a welcome addition for those wanting to explore the diverse flavours of game with the inspired spicing of one of London's most exciting Indian restaurants. Using only the very best suppliers, The Cinnamon Club ensures all their quality ingredients have been ethically and environmentally sourced.
The Cinnamon Club
The Old Westminster Library, 30-32 Great Smith Street, London SW1P 3BU