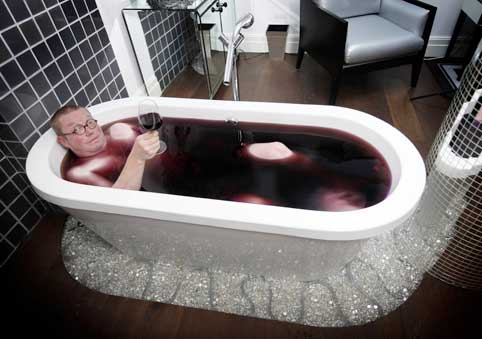 Culinary luminaries Heston Blumenthal, Angela Hartnett, Fergus Henderson and Herbert Berger are combining their formidable forces this October to host the celebrated Action Against Hunger Fine Wine Auction and Dinner 2009.
Fergus Henderson, Chef Patron of Michelin-starred St John, has gamely posed naked in a €˜wine-filledÂ' bath at the luxury Sanctum Soho Hotel, to capture the event's theme of 'urning wine into water'; illustrating that all funds raised from the event will help Action Against Hunger fight hunger and malnutrition worldwide.
The prestigious event will take place in the stunning hall of City dining institution 1 Lombard Street on Saturday 10 October 2009, to coincide with World Food Day on 16 October.
The Fat Duck's Heston Blumenthal said: 'I'm absolutely delighted to be a part of this amazing event. It really gives food and wine lovers the opportunity to enjoy a night to be remembered, whilst raising much needed funds for Action Against Hunger I urge everyone to attend.'
Guests on the night will be treated to a Champagne reception and four-course meal, created specially for the occasion by the team of revered chefs. The meal will be complemented by fine wines kindly donated by Hallgarten Druitt and carefully selected by leading UK sommeliers and wine experts including Peter McCombie, Master of Wine, and Thierry Tomasin, Master of Culinary Arts.
David Elswood, International Head of Wine at Christies, will host the highly prized live auction, with once-in-a-lifetime lots up for grabs.
Lots include a meal for two at Ferran Adria's three-Michelin starred restaurant, El Bulli, in Spain; a private dining experience for twelve at London's Corrigans and two Jereboams of Felton Road Block 2006 Pinot Noir, worth in excess of £3,000.
In addition, luxury lingerie brand, Agent Provocateur, have donated a special one-off item to be auctioned on the night. The stunning lace kimono has been hand crafted with 100's of finest Swarovski crystals for that extra touch of glamour. Guests will also receive a fabulous Agent Provocateur gift bag to enjoy.
Tickets are priced at £160 each. For further information or to purchase tickets, please contact Heidi Drummond on 020 8293 6133 or h.drummond@aahuk.org
Action Against Hunger
Against Hunger (ACF) is an international humanitarian organisation committed to saving the lives of malnourished children and working with vulnerable populations in over 40 countries worldwide to preserve and restore their livelihoods with dignity. Each year, Action Against Hunger helps nearly 5 million people.
To find out more about Action Against Hunger, visit www.actionagainsthunger.org.uk