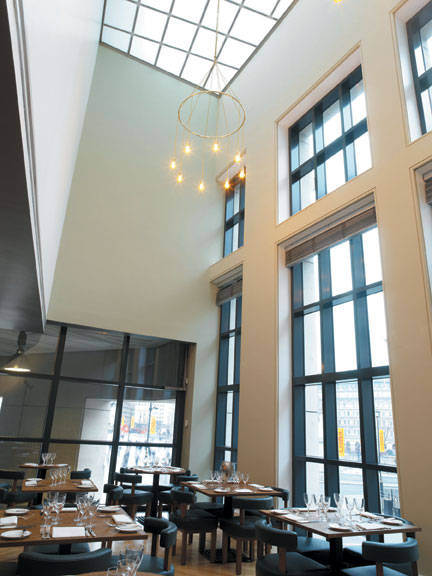 Champion of British produce Oliver Peyton has newly appointed Executive Chef Simon Duff, to bring his wealth of experience to the National Gallery restaurants, The National Dining Rooms and the National Café.
Duff, who trained under Marco Pierre White, is making a conscious effort to ensure both menus showcase the finest locally grown produce Britain has to offer. Having personally visited each producer to source the most diverse ingredients available and, with many specialist ingredients exclusive to The National Dining Rooms and Café, Duff's new ever-evolving menus aims to offer diners a real gastronomic treat.
Best of British
The National Dining Rooms is the only UK restaurant to offer the delicately flavoured grass-reared White Park beef of Bickleigh Farm. A past favourite of Sir Winston Churchill – during the war he sent a number to the USA in case of invasion which indicated that he didn't intend to hang about suffering with the rest of us. Hung for 28-days, Duff butchers and carefully prepares the beef in The National Dining Rooms' own kitchen, creating special dishes each day depending on the cut.
The exceptional high quality calves liver available from the Guernsey and Holstein pedigree from Bocaddon Farm are so rare that Duff only receives one piece of offal a week. Reared in small groups in open air, loose straw yards with plenty of fresh air and room to run around, the calves liver has a rich texture and flavour that Duff ensures is complemented by the finest seasonal ingredients.
Also on the menu is the award-winning is the Cornish Terras duck, from a farmer who spent years crossing breeds of duck to optimise flavour, alongside the traditionally reared creamy, flavoursome Meadows lamb from Meadows Home Farm, both handpicked by Duff due to the succulent taste and unmatchable quality.
Guests will also enjoy the wholesome, sustainably farmed native Brown Trout from the crystal clear waters of the Bibury Spring, Bibury Farm. Founded in 1902, by the famous naturalist Arthur Severn, the native Brown Trout is a local Cotswolds delicacy.
Throughout July and August diners can also take a culinary tour around Britain without leaving the table with Duff's bespoke 'County of the Month' menus. The menu continues to showcase his commitment to regional produce, with July using seasonal ingredients native to Gloucestershire and August to Devon.
With a plethora of unique and inspiring ingredients at Duff's fingertips, urban foodies will be delighted by the unique and sophisticated dishes on the daily-changing menu at The National Dining Rooms.
National Dining Rooms, Sainsbury Wing, The National Gallery, Trafalgar Square, London, WC2N 5DN
T: 020 7747 5942
Opening hours: daily, 10am until 5.30pm excluding Fridays 10am – 9pm
Café Culture
Duff has also added his touch to The National Café's menu, which reflects his enthusiasm for simple, quality food and the cosmopolitan ethos of the café. The new all day à la carte menu is influenced by the fresh flavours of the Mediterranean, with a contemporary British tone.
On offer are iconic favourites such as homemade steak and ale pie; the classic National Café burger and dishes such as gorgonzola, asparagus, Jersey royal, roast pumpkin seeds and fresh mixed leaves salad. Pasta lovers have a choice of delicious dishes such as lemon and basil linguine with cuttlefish and green olives or fresh, seasonal risottos.
For those who don't have long to lunch, Duff has introduced the 'Express Menu', two courses for just £16.50. Starting with hot smoked salmon with dill cream and cress; mains include a crisp pork belly with morcilla and crushed potatoes and a selection of delicious desserts to die for, such as a white chocolate brownie with chocolate ice-cream.
The National Café, East Wing, The National Gallery, Trafalgar Square, London, WC2N 4DN
Reservations (dinner only) T: 020 7747 4792
Use Getty Entrance during gallery opening hours
St Martin's Lane entrance open from 8am until the Café closes
Opening hours: 8am to 11pm Monday to Friday, Saturdays 10am to 11pm, Sundays 10am to 6pm