When you're rather fond of a mixed beverage, being instantly presented with a good looking list and the premise that,'it's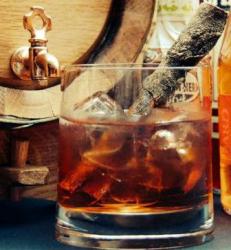 January – you should still be celebrating New Year' , bodes well for things to come. So is the situation at Babur, the award-winning Indian restaurant on Brockley Rise.
The mere fact that the cocktail menu was tempting enough to lure me from the normality of my North London comfort zone to so far south of the river it's like entering the Twilight Zone is telling. I feel like Dorothy telling Toto,'we're not in Kansas anymore'; only my companion is not canine and we've not even left London.
Genetically-imprinted geographical snobbery aside, South London does have its perks, I suppose. A quick glance at the'Cold Weather Collection' of seasonal cocktails over poppadoms'n'pickles perks my travel-weary demeanour up a treat. The arrival of a Yorkshire Manhattan, combining barrel-aged whiskey, vermouth, orange bitters, Campari, rhubarb liqueur and cinnamon, even more so. The whiskey is served as a separate shot, to tip in or sip as I so choose.
The companion, meanwhile, is savouring a Cornish Sour that lives up to its name. The interesting take on the classic is based on a reduction of St Austell wheat beer, providing the geographical pedigree of the name. The remaining ingredients sound slightly haphazard; gin, clove bitters, banana liqueur, sesame oil, lime juice, and egg white. But the overall effect makes me feel like I'm sucking on a sherbert lemon like a kid in a sweetshop.
Speaking of kid; it's on the table, too. Well, a rather more mature meat anyway, in the form of a deep, rich goat stew from Babur's current Nepalese specials. We're also tucking into trout in a lightly spiced, mustard-based gravy. Some might argue that curry and cocktails do not a marriage make, but here, it's a match we're finding rather agreeable.
It could be all the liquor clouding judgement, but I'm more inclined to think it's about the clear skill in the kitchen and behind the bar. Food and drinks alike at Babur are fragrant, fresh, and clean; the refinement allowing you savour each and every flavour, both on the plate and in the glass. By now, we're both ready for another round, this time from the House Specials – Mango Mary for me, Currytini for the chap.
My fruity little beauty is somewhat more savoury than its name suggests. Alphonso mango nectar stands in for tomato in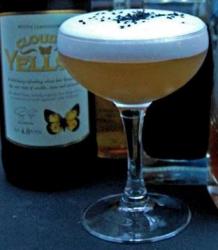 the'Bloody' version of this beverage, lashed with lime, Worcester sauce, green chilli and black pepper to dangerously gluggable effect. Particularly when sipped from a glass with a stingingly salty rim.
The Currytini is an almost culinary experience; gin-based, Sahara-dry, heavily herbal. We smell it before we see it – the distinctive waft of fresh curry leaves announcing its arrival from across the dining room. The long, thin green chilli artfully draped across the glass proves too tempting for the drinker; and, in retrospect, a big bite proves too much for that mild man.
'Chilli-gate' does not, however, deter him from selecting a similarly-spiced tipple for his next trick. Serving the Passion for Whisky in a tin cup could well be a protective measure – the hotly-spiced liquid contained within certainly packs quite a punch. My Pepperisco, also from the'Cold Weather Collection', gets the tastebuds all a-tingle, a zesty combo of ginger, grapefruit, pear and black pepper.
By this stage, we're pretty'well hydrated' to say the least. It's refreshing to see such an extensive cocktail menu at an Indian restaurant, and more so still to see seasonal change in the well-executed, well-priced list. The use of Indian ingredients is judicious; inspired, not insane. These are not gimmicky drinks, just carefully-crafted cocktails designed to reflect and compliment the flavours in the food.
That said, my dessert drink does sound slightly sickly. The Banoffee Pie claims to be a decadent decoction'so think you could almost chew it'. The companion's not convinced – but, when it arrives as a sophisticated serving of well-mixed liqueurs crowned with a layer of fresh cream, he's pleasantly surprised – and I am already swishing it round my whole mouthful of sweet teeth.
The super-saccharin drink is a nice counterpoint to my bittersweet chocolate fondant; the gooey pud made earthy with the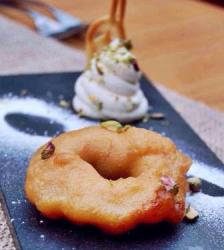 addition of cumin. The companion's White Garden has a pretty perfume of jasmine and elderflower, ideal with the sharp lime cream that accompanies a clever pudding of a spirit-soaked vada – the little lentil donut making for a sort of subcontinental spin on a rum baba.
We leave about as well-macerated as that drunken dessert. Despite the distinct nip in the air, I stay toasty (and pleasantly pickled) all the way home. It could be the cocktails, it could be the spicy supper… but I highly suspect it's also something to do with the spirit and warmth of the Babur brigade. Food and drinks worth crossing the river for. And that's something I don't say lightly.
Babur, 119 Brockley Rise, SE23 1JP 
For more infomation on Babur's seasonally-changing and classic cocktail menus, visit www.babur.info