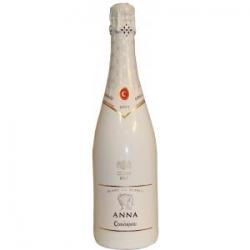 'Come and try Codorniu Raventos new cava – Anna Blanc de Blanc de Blancs', said the invite and we needed little encouragement, especially when it was going to be at Pizarro Broadgate
Everyone likes a bit of fizz; champagne is of course the wine you want for celebrations but at other, more prosaic, times when all you need a simple sparkle -up then Prosciutto or Cava are very good too.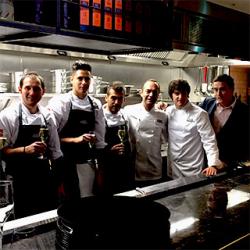 For one night only, 3 Michelin starred chef Jordi Cruz of Spanish Masterchef fame was visiting London to cook alongside José Pizarro.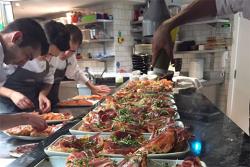 The chefs were to be joined by Codorníu's head winemaker Bruno Colomer, and new Anna de Cordoniu Blanc de Blancs cava was to be served alongside a specially designed three-course menu.
It's named after Anna de Codorniu, 17th Century heiress of the Codorniu estate and primarily made from Chardonnay grapes with some traditional Cava grapes, namely Macebeo, Xarel-Lo (which sounds like a Star Wars character) and Paralleda, and then aged 15 months.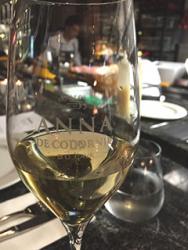 It comes in a solid white bottle as if it's wearing a mink fur coat, and we know what they say about'all fur coat' don't we, so what's on underneath?
Creamy, fine bubbles and a bit of brioche and toast -the first two facts I discovered for myself, while the last two were supplied by head winemaker Bruno Colomer. But once he'd mentioned them, they became more obvious. The power of suggestion perhaps, but maybe not.
ood? Fab. Chorizo and parsley croquetas, jamon on tomato bread, cuttlefish in saffron sauce all excellent and all dashed out by a merry team from a galley open kitchen and under chefs' watchful eyes – two pairs of eyes to make it more demanding.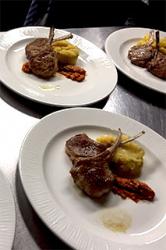 Beautiful baby lamb chops simply cooked on a plancha and partnered with lush olive oil crushed potatoes and a perfect dollop of romesco sauce, were the main courses. A bit too pink for me on the first batch that came out but the second was spot on.
All the time we'd steadfastly drunk the Anna and it went well, but some of us, and my hand goes up, needed to see red for the lamb and Codorniu obliged with a very good Vina Pomal Rioja Crianza with dark, roasted flavours. An excellent chocolate milhojas rounded things up, and again the fizz found itself well partnered.
From our perch at the counter, best place to be in a Spanish restaurant I feel. we watched the team swiftly clean down the cooking areas to spotless perfection, under Jose's genial but eagle like gaze, before draining the dregs. With Xmas now approaching fast, Anna Blanc de Blanc de Blancs at just under £7.00 seems an ideal bit of bubbly to be stashing under the stairs ready to serve with the horses' doovres or the canapes.
It will at least guarantee a'white' Xmas.
Available at