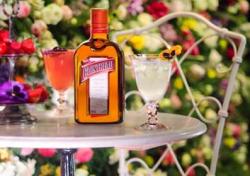 Well there is some sign that the sun has finally arrived and Cointreau, the iconic orange liqueur is celebrating with the Cointreau Fizz Garden Party series. The parties, which are complimentary for Cointreau lovers, will take place on a secluded rooftop garden at The Skyroom, London Bridge every Tuesday evening from 11 June to 2 July 2013.  
The rooftop will be transformed into a lush flower garden complete with garden games, a garden shed photobooth and, of course, a Cointreau Fizz bar. Guests will be served Parisian inspired snacks including savoury macarons and desserts with edible flowers, while enjoying a Cointreau Fizz or two and watching the sun set over the London skyline.
A taste of Summer
The Cointreau Fizz has been crafted to put Cointreau at centre-stage and to show that it is the perfect base for simple, delicious serves that can easily be recreated at home. This serve can be created with just three ingredients: 50ml Cointreau, ½ fresh lime (squeezed) and 100ml soda.
There are also several sparkling variations on the serve, including the Cointreau Fizz Cucumber & Basil and the Cointreau Fizz Strawberry & Mint.
Cointreau Fizz Garden Parties are being held at The Skyroom, London Bridge on Tuesday 11 June, 18 June, 25 June and 2 July 2013, from 6:00 – 10:00pm. Register for free at www.facebook.com/CointreauUK
Participants must be aged 21 years or over. Guests will be given tokens which can be exchanged for Cointreau Fizz cocktails