Cookbook Cafe at the InterContinental London Park Lane is introducing a '50 Mile Menu' celebrating the finest, seasonal and sustainable British ingredients which can be sourced within a 50 mile radius of the hotel. Prepared by executive chef Paul Bates and his team, the à la carte menu will be available at weekday lunchtimes from 28th February and alongside the restaurant's market table offering. The menu has been introduced to underline the restaurant's commitment to sustainability, and was recently recognised with a two-star award from the Sustainable Restaurant Association.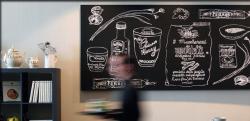 The '50 Mile Menu' features many of the British ingredients that can be found on the restaurant's daily menu, including crab-crusted whiting, line-caught off the coast of Hastings, which is served on puréed Violet potatoes with cider mussel cream.
Alternatively, diners might choose Berkshire chicken, grilled and served on crushed onion squash (from Kent), warm chestnut, bacon and walnut sauce (the chestnuts are also from Berkshire); or Hampshire venison haunch steak, with 'sweetheart' cabbage and bacon, roasted carrots and salsify, winter pear and peppercorn jus (all vegetables from Sussex.)
Paul Bates says, 'We already make every effort to source our ingredients from sustainable sources, and support British farmers where possible, and the '50 Mile Menu' is our chance to highlight some of the fantastic producers we're working with, within a stone's throw of London. I'm delighted that the work of our team here has been recognised by the Sustainable Restaurant Association, who particularly noted our commitment to local sourcing, and our engagement with diners on great ways of preparing these fresh ingredients through our cookery classes."
Overlooking Hyde Park, Cookbook Cafe's menu covers breakfast and brunch classics, and is accompanied by unlimited Bellinis or Cremant. Brunch is available 12.30-3.30pm on Saturday and Sunday, and reservations are essential.
The restaurant also runs regular, themed cookery classes for children during brunch, at a small extra charge of £10 per child. Forthcoming dates include Yummy Mummy Munchies, ahead of Mother's Day in March.
Reservations for the 50 Mile Menu, brunch and the cookery classes can be made on 020 7318 8563 or hello@cookbookcafe.co.uk, and further information can be found at www.cookbookcafe.co.uk.