With this kit, anyone can prepare a proper Michelin-worthy authentic paella at home. And you can even have the ArrosQD chefs online on Zoom!
When I was a young teenager, my parents would drag me with them to Spain for the annual summer holiday.
I was at that awkward age where I couldn't be trusted not to trash the house by hosting a massive party while they were away, but at the same time not young enough to be entirely happy being on a mum and dad holiday.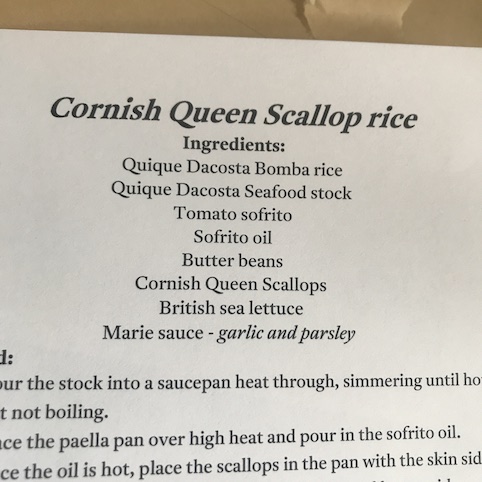 And this was the 1970s. Spain was just sun, sangria, Watneys Red Barrel Bitter, and paella and chips. The brits could just about manage a paella as foreign food, if there weren't too many prawns in it.
Paella though took a long while to recover its image from the horrors that were served under its name all the way from the Canary Island to Torremolinos. Usually accompanied by the Birdy Song at maximum volume.

Quique Dacosta, already a three star Michelin chef in Spain, loves paella and felt it was well overdue for a reboot abroad. He opened ArrosQD in London, backed by the brilliant Iberica restaurant group, it's a palace of paella that's dripping in gorgeous furnishings where amazing paellas are cooked on open wood fires.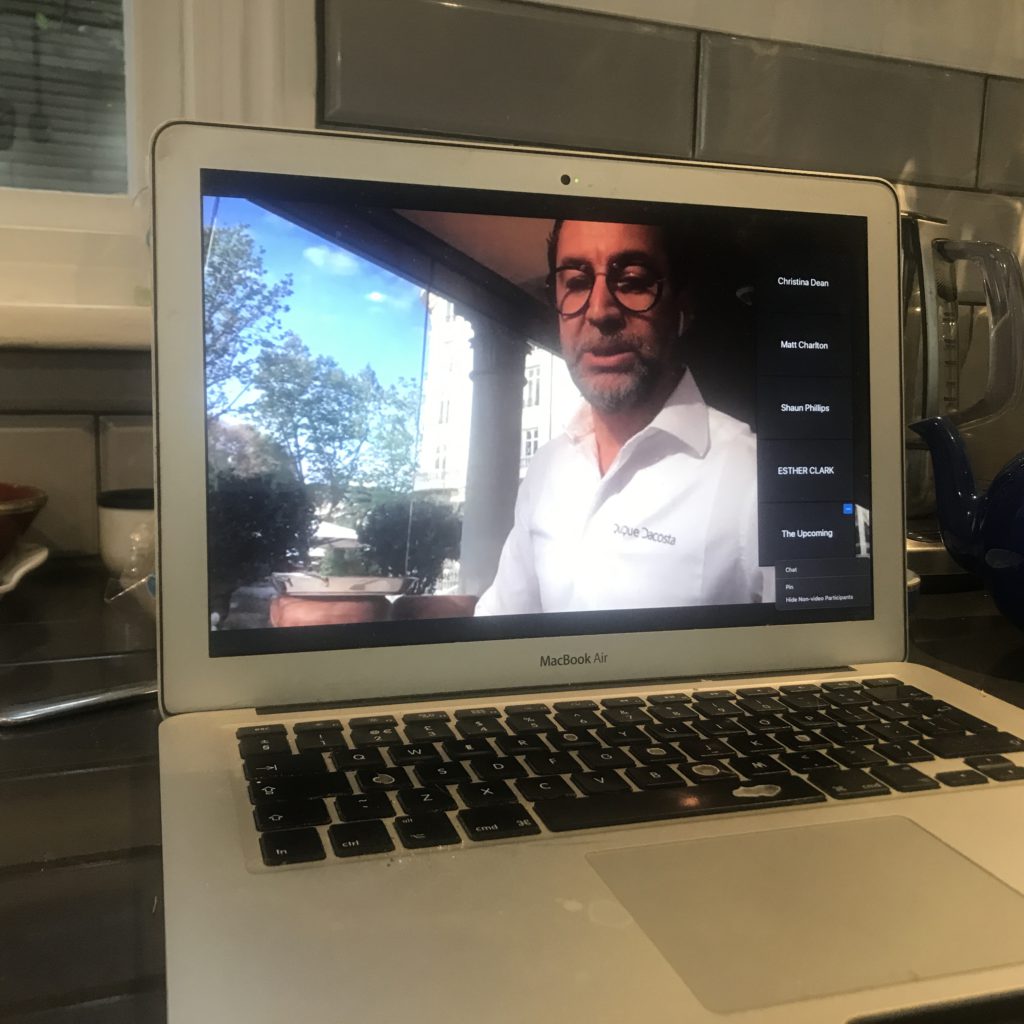 During the pandemic, Arros QD has not only been sending out cooked meals to eat at home, but also paella 'kits' with everything you need, including a paella pan, sent fresh out of the kitchen for you to cook at home.
We got a kit and set up at home ready to join Quique in Madrid and ArrozQD chef Richard in the London restaurant to show us what to do.

Quique was obliged to use a normal hob, Richard had his open wood fire. Something he frequently and good-naturedly joshed his boss about 'you can't beat wood and wood smoke!'.

Prep is simple, if you have sharp scissors to open all the bags. Simply get those ready and have the stock, a fantastic restaurant fish stock, heated in a pan.

Paella, as Quique was at pains to point out, is not a Spanish 'risotto'. A proper Valencian paella uses Bomba rice, also known as Valencian rice, grown in eastern Spain. It doesn't stick, can absorb almost three times its weight in stock and is one of the most expensive rices in the world. You first fry the rice in sofrito flavoured oil before adding the stock.

Also included in the kit are gigantic Spanish butter beans "Garrofó", 'if one breaks, take it out,' said Richard. 'If you don't, it will leak starch into the stock and make the rice gummy.' Quique's expression did not need translation, he absolutely agreed.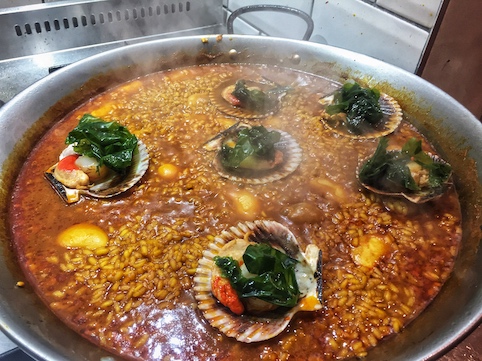 'Don't keep stirring as you would a risotto,' Richard also said, as I began cheerfully stirring, 'that will also make the rice sticky and you don't want that in a proper paella. Leave it alone'. I quickly pulled my spoon out.
Someone on Zoom then asked if Basmati rice would work, and was immediately taken outside and shot. No, but both chefs were very clear that basmati would not do.


A fish paella doesn't take that long, fifteen minutes or so. Ours was starring Cornish scallops, Quique is determined to support the UK fishing industry and future paellas from ArrosQD will be using sustainable UK fish as star ingredients. The scallops needed only a brief face down down sear, after that it was all about waiting for the rice and being patient. And drinking wine.

Richard was able to skilfully bring his heat up and down by moving burning wood away from the pan and then back again as needed, finishing with adding a bunch of vine twigs for aroma as well as  the quick fierce heat needed to create the 'socarrat' at the end of cooking, the highly-prized crunchy rice at the bottom of the pan.

We were not so skilled with our gas hobs, and our paella took longer than either of the pro chefs, but of course practice would make perfect.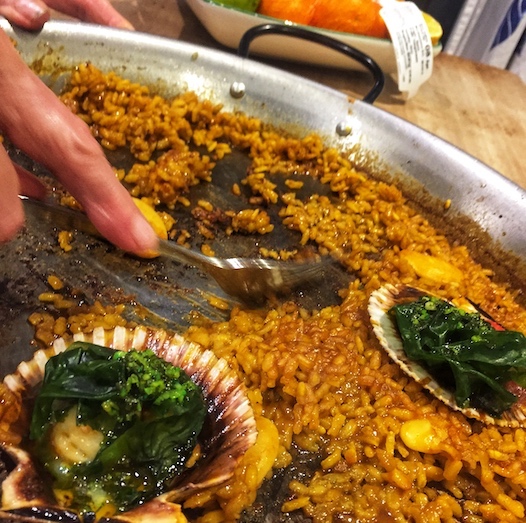 We ate it in the proper way, the pan placed between us and two forks clashing as we dived in.

It was all great fun and interesting to see the other Zoom attendees' efforts, and hear about their mistakes, although some of their paellas looked very good indeed and rather put ours to shame.

Ours was delicious all the same, but then how could you go wrong with superb scallops, a fantastic fish stock and Bomba, the royalty of rice?

And it's not often a 3 star Michelin chef is on hand to show you the way as well answer your questions.
You can book your own live cooking experience here and here

Takeaways from ArrosQD can be ordered here

Order your paella to arrive in the pan via @supperlondon or collect from the Fitzrovia restaurant.

Paella at home 'kits' here

Grill at home 'kits' here

Quique Dacosta Paella Kits
Everything you need to get you started – 38cm Paella pan, 1kg Bomba rice, a branded wooden spoon and your choice of Quique Dacosta stock for rice (each tin makes just over 2.5 litres of stock, or enough for 3 paellas for 2 people) orders will be posted within 2 working days. Given the current circumstances, please allow 4 to 5 days for delivery.

Twenty minutes in one and a half!