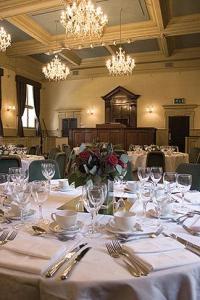 Browns Courtrooms- the private dining rooms above Browns Bar and Brasserie in Covent Garden- is hosting an exclusive wine dinner on 10th November featuring wines from the famous Rothschild estates.
Managing Director of Rothschild Waddedon, Chris Campbell, will lead events and has also used his skills to personally match the wines for this four-course dinner.
Priced at £35 per person the dinner will match French and Argentinean wines to four dishes created by Courtrooms' Head Chef Phillipe Carrer. The menu includes: Pan fried scallops with pea puree, mixed leaves and white balsamic dressing; English rack of lamb with fondant potato, seasonal vegetables and a port jus; Browns cheese plate and Apricot tart tatin.
To book a place call the Courtrooms on 020 7395 6091 or email