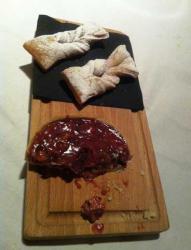 Brasserie Joel is a French restaurant inside the Park Plaza Hotel on Westminster Bridge. Opening this month is a new event, Cuisine et Chansons, which aims to take foodies on a sort of culinary tour de France, offering people a taste of the lesser known, more regional delicacies of France. Tonight's theme is the Rhône-Alpes region, home to the city Lyon, and famous for its fruits, olives and wine.
While sipping on a glass of Côtes-du-Rhône, you can be entertained by a chanteuse, who this evening is the spectre of France's most famous female singer, Édith Piaf. The menu offers one starter, 3 small, sharing sized mains, and three deserts, meaning that you can try everything, much to the satisfaction of this Bon Vivant, and you don't have to feel too bad about forgetting half the French you learned in school.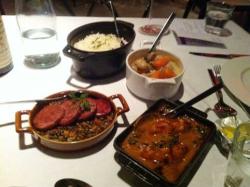 o start we enjoyed a creamy cheese tart, with some bacon, onions and green salad complemented by a glass of Châteauneuf-du-Pape. If you are the type of person likes wine but doesn't know which glass goes with what dish, Brassiere Joel have on hand  fantastic staff who will help you choose the wine that will best suit your meal and your palate.
Next we tucked in to a sharing platter of the 3 mains – Lyon sausage on a bed of black lentils in red wine sauce, fish dumplings in lobster sauce and a creamy veal stew with carrots, mushrooms and rice. The sausage was delicious, and perfectly complemented by the lentils, but there just wasn't enough of it. The Cod Quenelle was soft and light, and tasted strongly like lobster but with a nicer texture, and the veal stew was wonderfully creamy. Between the two, it was an meal that didn't leave either of us too full, which was lucky considering the quality of the desserts.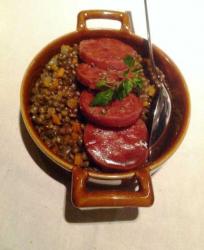 To finish we sampled a Praline tart which was sticky and very sweet, a selection of small, deep fried pastries that tasted like orange and lemon, and a creamy cottage cheese, garlic and herbs mix that was served with small bits of bread,  a pleasant, savoury end to our meal. In France, it is customary to finish a meal with a digestif, so we knocked back a small glass of Chartreuse, a drink so memorable it has a colour named after it.
Brasserie Joel's new menu is an excellent introduction to the regional cuisines of France, and a worthy destination for those looking to discover new favourites. When it comes to Cuisine et Chansons, I have no regrets. Well, maybe just the Chartreuse.