On first consideration, Curry Cuisine's jams sound a shade scary. But once your grey matter moves beyond any 'curry in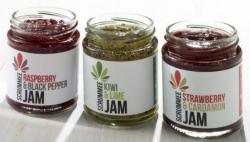 your condiment' connotations, they become spreads to really savour. From the U.S. obsession with cinnamon at brekka, to Scandinavian pastries spiked with cardamom, to Italian fruit mostardas, 'spice with sweet' is a combination that just makes sense. 
By happy happenstance, Prett and Paresh Tejura's company hails from'Tingley'.  The preserves certainly warrant the adjective, although the jars call'em'Scrumees'. They're that, too. Rich, wine-y plum and cinnamon takes me straight back to Christmas, hovering over a mulling cauldron. It works favourably in cold roast pork sarnies, through hot kale, and ladled over buttered toasted teacakes.
On a particularly inspired Friday night, the lairy green kiwi and lime find its way into a tequila cocktail, standing in for gomme syrup and adding oodles of zesty flavour to boot. The tropical combination is a treat thinned down and used as a dunk for coconut-crusted, deep-fried prawns or goujons of sweet white fish. There you go, Prett, a new recipe to add to your cookery class repertoire.
I do return to the tried-and-tested raspberry and chocolate combo rather regularly, so I found Prett's suggestion of using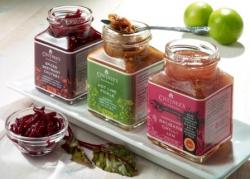 Curry Cuisine's raspberry and black pepper jam as a chocolate cake filling particularly agreeable; that tingling, tickling warmth at the back of the throat infinitely preferable to the mouth burn offered by the more modish chilli-choc combo. Good, too, with game.
Strawberry and cardamom is a surprise, pairing the spice so closely associated with India with a fruit associated not at all. But the cooling, menthol elements and burnt orange notes of the cardamom are both happy bedfellows with the juicy red berry. Rippled through thick Greek yogurt with a few crushed fruits, it makes a virtuous brekkie'Eton mess'…  And a lush peanut butter and jam toastie.
So you'd expect the jammy duo to deliver savoury condiments to draw equal compliments. Curry Cuisine doesn't disappoint, with a pickles and relishes range rewarded with almost as many Great Taste Awards as there are nigella seeds in the'Luxury' mango chutney. A real preserve for the Brits, its sweet'Major Grey' style is literally elevated to gold standard with a sprinkling of sunny saffron.
Curry Cuisine is a fiercely proud user of local produce. Strawberries are a shocking success in a spiced chutney, and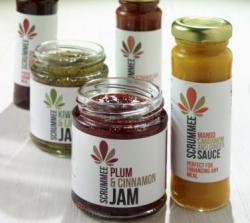 Yorkshire rhubarb sticks its ribs into quite a few recipes; a splendidly sour-sharp pickle with mango and a limited-edition PDO rhubarb and chilli jam full of flavour and texture, with a pleasing set a lot softer than many sticky chilli jellies and a proper pungent rhubarb aroma.
You'll also find a rich tomato chutney that should rightfully relegate the Heinz firmly to the subs bench, and a vibrant beetroot relish that's a treat with a few walnuts and some goats' cheese. There are spicy salad dressings, too, and, as a final course, fruity, lemongrass- and ginger-spiked sauces – surely a slop of chilli-cherry-chocolate on your ice cream is only giving it just desserts.
This is a company that understands fusion – of ingredients, of geographically-diverse foodstuffs, of co-existing cultures. I find Prett and Paresh's hearty embracing of Yorkshire wares and drive to chivvy Curry Cuisine's chutneys past the poppadoms to become real storecupboard staples every bit as pleasant a treat as finding a cardamom on my croissant. Now we're really jammin'. 
For more information on Curry Cuisine's condiment ranges and Prett's cookery classes, visit www.currycuisine.co.uk