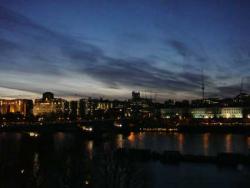 The Deck's Rooftop Picnics and Plays at the National Theatre proved so popular this August that a September date has been released to say
sayonara to the summer.
Starting with a skyline picnic at The Deck to soak up the panoramic views, guests will savour delights such as potted ham and homemade piccalilli; asparagus, broad bean, summer squash and goat's cheese salad; mini smoked salmon bagels; Westcombe cheddar and blueberry chutney with pecan and raisin bread; Pimms and strawberry jelly or mini chocolate pots, all washed down with a glass of chilled champagne.
The Pitmen Painters by Lee Hall follows in the Lyttelton Theatre. Winner of 'Best Play' at the Evening Standard Awards, the performance
follows a group of Ashington miners who hire a professor to teach an art appreciation class in 1934. Rapidly abandoning theory in favour of practise, the pitmen began to paint. Within a few years the most avant-garde artists became their friends and their work was acquired by prestigious collections; but every day they worked, as before, down the mine. The play is a humorous, deeply moving and timely look at art, class and politics.
Date and Time
Sunday 6th September
Picnic: 12 noon
Play: The Pitmen Painters matinee at 3 pm
All-inclusive tickets cost £40 per person
Spaces are limited at these exclusive events and so early booking is
strongly advised.
To book contact the National Theatre Box Office on 020 7452 3000 www.nationaltheatre.org.uk/thedeck