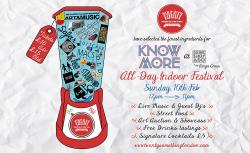 When we hear the word Art we usually reach for our gum, but the chaps at Twenty Something London are leavening all the creativity with what looks like a decent bit of scoff too.
Drink, Shop & Do on Sunday,10th Feb is an all day festival featuring live acts, DJ's, street food, free tequila and rum tastings as well as a silent art auction and announcement of the competition winners of their Know More "Inspired London" 
There'll be FREE tastings of high-end spirits all day until 7pm alongside £4 signature cocktail specials (served from 12pm until the liquor runs out):
 Jameson Whiskey, La Hechicera Rum, Olmeca Altos Tequila
Food will be on all day until 7pm and nothing is more than £4. Guasacaca – The Venezualian duo will be making handmade arepas (corn buns) onsite filled with shredded beef or chicken, cheese, and Venezualian guacamole with available veggie option.