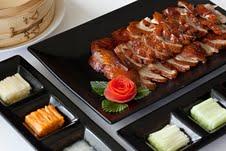 Luxury Chinese restaurant, Min Jiang, is offering diners the chance to try its signature dish,'Legendary wood-fired Beijing Duck', together with a bottle of Louis Roederer Champagne, for £80 (half duck) or £99 (whole duck).
The duck is first enjoyed as slivers of crispy skin which are dipped into fine granulated sugar – a classic treat of old Beijing. Pancakes are then served alongside two types of garnish, the traditional sweet sauce with shredded leeks and cucumber, and a contemporary version of garlic paste with radish and Tientsin cabbage. Finally, guests can choose between several dishes for the remainder of the duck, such as spicy minced duck with a lettuce wrap, a soup, a noodle or a rice-based dish. The crisp acidity and freshness of the Louis Roederer Brut Premier is the perfect compliment for the juicy richness of the roast Beijing Duck.
Min Jiang, which celebrates its fifth birthday this September, enjoys fantastic views of Hyde Park from its location on the tenth floor of the Royal Garden Hotel in Kensington, and is the perfect spot to enjoy some duck and Champagne this summer. This promotion lasts until the 31st August and is available anytime, but must be booked in advance.