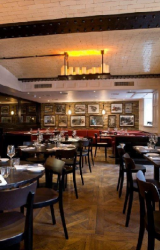 If you're stuck for ways to enjoy the forthcoming Glorious Twelfth, we've handily divvied up the choices and are serving them to you on a platter with extra game chips. The Glorious Twelfth marks the traditional start of the shooting season for Red Grouse, meaning that in the coming weeks there will be numerous resturants packed to the brim with red grouse and all manner of delicious gamely dishes.
The Business of Grouse 
If you're out and about in The City and fancy grabbing some grouse with your work friends, impress them with a trip to Chiswell Street's The Jugged Hare. Their menu boasts a (literally) firery dish, as well as some less complicated and more traditional favorites, sourced from Ben Weatherall of Yorkshire Game Company as well as many other small, select gamekeepers and riflemen up and down the country. Dishes include salt-baked grey-legged partridge with skirlie and juniper jus; snipe kiev with pickled cabbage; devilled game giblets on toast and the'dive bomb', a tufted duck pastry bomb delivered flaming to your table, so perfect if you're looking to impress friends or colleagues. Look out for clay pigeon stew served in specially made clay pigeons with a sloe gin shot served in an oversized shotgun cartridge. 
If it's something a little more traditional you're after, game fayre is available in the pub's grouse feasts for parties of six. If that doesn't give you enough of a kick, the resturant is chock full of beautifully preserved taxidermy, with everything from partidges and phesants to deer heads, which are good for a few funny instagram snaps.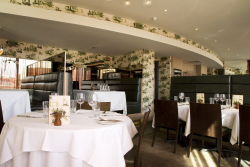 Feeling blood thirsty? If so, The Butcher Bar is coming to Anise in Devonshire Square. Opening on 20th August, The Butcher Bar hopes to bring some much needed guts to the bureaucratic City and has timed it's opening to coincide with the start of the British shooting season. Executive Chef Vivek Singh is expected to bring a little of his modern Indian flare with a menu boasting everything from game to chicken livers. There will also be a few butchers hooks, (not the cockney rhyming slang kind,) antlers and other grisly paraphernalia to add to the atmosphere. Not one for the vegetarians, the menu is based entirely around meat; Singh has, together with head chef Abdul Yaseen, created quite a well priced menu with lots of sharing dishes starting from around £4.50 and going up to the prize kill – The Butcher's Block ( a sharing platter of beef, venison and grouse,) at £18.00 per person. This isn't one for the die-hard grouse lovers, if only because there are so many other non-game dishes on the menu, but it is one for the cocktail lovers. Bar manager Ben Newton-Syms obviously isn't content letting the meaty menu take all the juicy headlines, so he's created five cocktails that contain things like bacon-infused buffalo trace (The Buffalo Butcher, £8.50) and grilled ve
nison with Johnnie Walker (Deer Me, £9.00.) Do I think these cocktails are going to take off? Probably not, but they'll help contribute to the fun atmosphere and make a good anecdote for any meat lover to tell over a burger. 
If you're of a more sophisticated palette and fancy some added wine,
Northbank
will be hosting a special Bordeux Wine Dinner, hosted by
Will Gilsenan
, Ellis of Richmond Wine Merchants. Priced at a rather reasonable £60 per person, expected highlights are the Foie Gras and wild mushroom parfait with marrow bone buttered cornish crumpet, and the roasted pheasant breast, with confit leg and braised red cabbage.
Elsewhere, if you're over by Tower Bridge or just fancy a bite to eat by the river, The Oyster Shed will be serving a roasted grouse dish with a grouse liver pate on toast with a light jus, plus game chips and watercress.
Best in the West
Corrigan's Mayfair and Wiltons on Jermyn Street, are celebrating the start of grouse season by offering a more personal service to'hunters and gatherers'. As well as the traditional offerings of game, game bird pies and various other roasts and stews, both restaurants will be encouraging guests to bring their own grouse, or other game of their choice, to enjoy with family and friends. At Corrigan's, the a la cartemenu from 12th August will also feature grouse, followed in the Autumn by game. Typical dishes include Spiced venison tartare, Douglas fir and buttermilk, Roast partridge, candied walnuts and pear and Wild boar, caramelised quince and scratchings.
Aldo Zilli, celeb restaurateur and Chef Consilere of Picadilly's San Carlo Cicchetti is attempting to smugg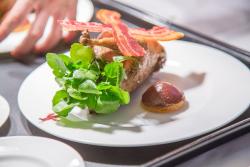 le some of the tricks he learned on his trip to the Heather Moorland in 2012 back across the border to London for his Glorious Twelfth menu. If you'd like to compliment your red grouse with red wine, Cicchetti London will be one of the first restaurants to have this delicacy on the menu throughout August. The dish aims to complement the hearty flavour of grouse with a choice of wines, but it is the option of a sweet Sicilian wine from Marsala that sounds most appealing.
Le Café Anglais will be celebrating as usual by putting the famous game bird back on the menu. For the duration of the season, Chef Patron Rowley Leigh will be serving the very plumpest Grade A grouse. Sourced from the English and Scottish moors, each bird will be hand-picked and hung for three to four days to ensure the juiciest meat. Leigh apparently prepares it very simply, and each bird is spit-roasted to order and accompanied by fried potato chips and gravy in a grand copper dish for the modest price of £26.50. 
If you're all about hopped up about game season, why not take a taxi to Knightsbridge and The Rib R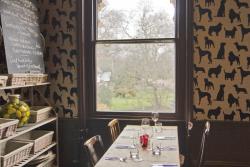 oom Bar & Resturant were Meantime Brewing Company's Head Beer Sommelier Rod Jones has set and matched a selection of beers for the game on the table. lthough beer and game may not be the most traditional of bedfellows, the mix of rich and unctuous game with deep dark stouts, chocolate porters and smoky ales can occasionally perfectly combine to create a rather carnivorous craft beer combination.
For Game Girls and Boys
South-West favorites The Prince Albert in Battersea, The Phoenix in Chelsea are serving grouse with grouse liver pate and The Builder's Arms in Chelsea will be serving  grouse breast stuffed with apple, foie gras and minced veal served with a grouse and potato croquette and grouse syrup all from 14th August, meaning that they will have let the grouse have had a few days wrapped up in a streaky bacon blanket made of deliciousness. Out of all three, The Prince Albert is probably the one most suited to game, simply because of it's beautiful country-styled interior and the lovely view across to Battersea Park.